wordsout by godfrey rust
THE PLACE WHERE SOCKS GO
---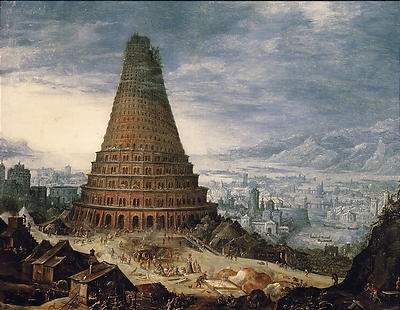 Babel
"The plans are not ambiguous.
It clearly states the measurements
in several elevations, and the facings to be used.
"I've heard all the complaints about suppliers,
we've been through that a dozen times.
It's your responsibility by contract,
you knew that when you tendered.

"Fine. Comply
and make good now or under penalty.
"That's up to you. Just get the job in hand.
"What do you mean, You just don't understand?"
---
Babel was the first poem I wrote after an interval of about five years, on a train journey between Glasgow and London in October 1980. It was on this journey that I made up my mind (or more accurately, I found that my mind had made itself up) to re-engage with the Christian faith. Why this should have found expression in a poem recording one side of a mythical telephone conversation between the project manager for the Tower of Babel and one of his contractors remains a mystery to me, but misunderstanding in human communication at all levels is a theme which has been a constant thread in my professional and creative life ever since so perhaps it was a suitable prologue for a period of creativity which has continued ever since.
© Godfrey Rust, godfrey@wordsout.co.uk. See here for permissions.
.