wordsout by godfrey rust
A Christmas Commentary < 3 of 6 >
---
Dancing
The universe from which Love sprang
started with a Tiny Bang
when Love, to everyone's surprise,
came dancing out of paradise,
dancing into night and day,
dancing into DNA,
dancing to a different drum,
dancing into kingdom come,
dancing with a virgin stranger,
dancing in the dirty manger,
dancing ever undefiled,
dancing as a little child.
---
Written to follow the reading of the birth story in Luke 2, 1-7 as part of A Christmas commentary for the carol service at St Johns Church, West Ealing in 2012.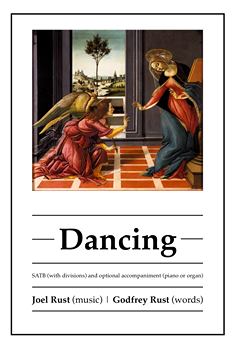 A choral setting of this poem by my son, the composer Joel Rust, can be found at http://joelrust.com/dancing?fbclid=IwAR04hjwTIYOMGLFPWsEEjdBqQqnj-hL73IpIbT1QfAHROlMqnTdEz4nrZEw

© Godfrey Rust 2012, godfrey@wordsout.co.uk. See here for permissions.