wordsout from Cafe Church · poems by Charles Jobson ←→ · home
---
The All-Seeing Eye
A collaboration between Charles Jobson and the painter Samuel Toussaint in which the poet wrote four poems in response to five of the painter's existing canvasses. What emerges is a sense of a compassionate, vibrant intelligence, ever-present but easily disguised within an abstract and troubled reality. The works were displayed in St Johns West Ealing from September 2012 to December 2013.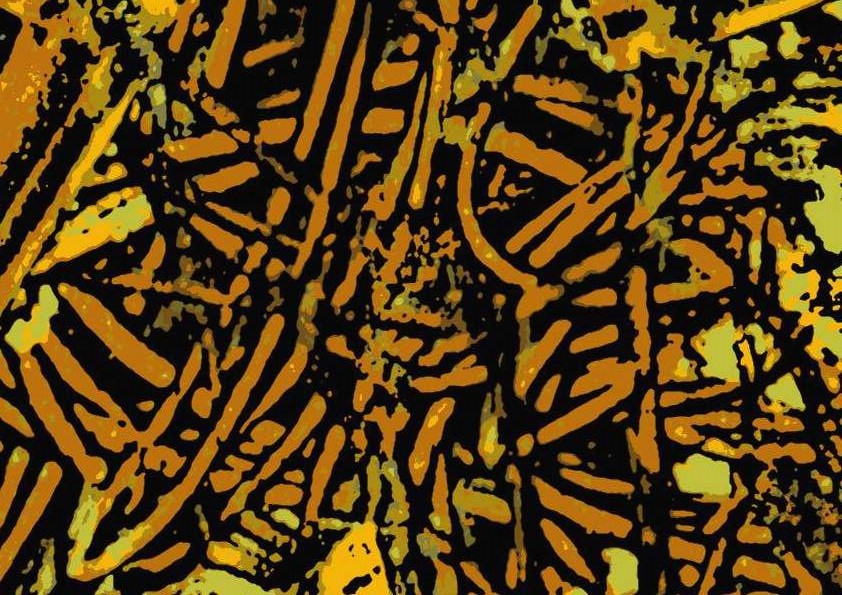 Abstract 2 & 3
In the undergrowth something stirs.
A twig is snapped,
a tiny fern bends down—
such a galaxy of vegetation
all patiently waiting
for the heralded return.
We cannot know
what it is like to be a plant,
but the world spins on a similar axis—
as green shoots stretch out
we can feel the rumblings of the planet.
All the hate and envy of the world
cannot dim these outreaching tentacles.
Good things grow and produce
a harvest strong enough to endure.
Let those lights glimmer,
let the leaves sparkle with their dew
and let the flowers of truth
live in a warming sun.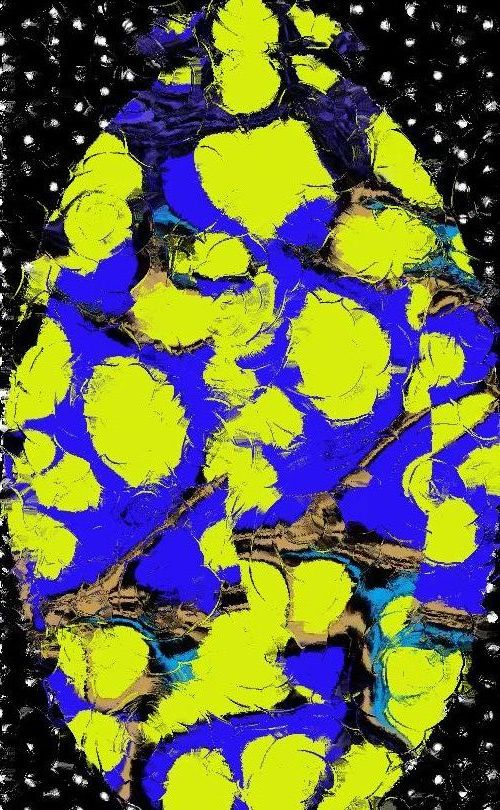 The door
The world stands firm.
Patches of yellow land
like a sandy oasis and flowing palm trees
stretching out and calling for water.
Who knows where land ends?
When tons of rubble come crashing
Down from the bare earth
can living creatures,
plants of spirit,
spring up and multiply?
A globe is a disc
waiting to blossom and spread.
Our earth is a reflection of something greater,
the arc of higher knowledge—
spy in the shadows of blue
a figure quiet and pondering.
Nothing's left to chance.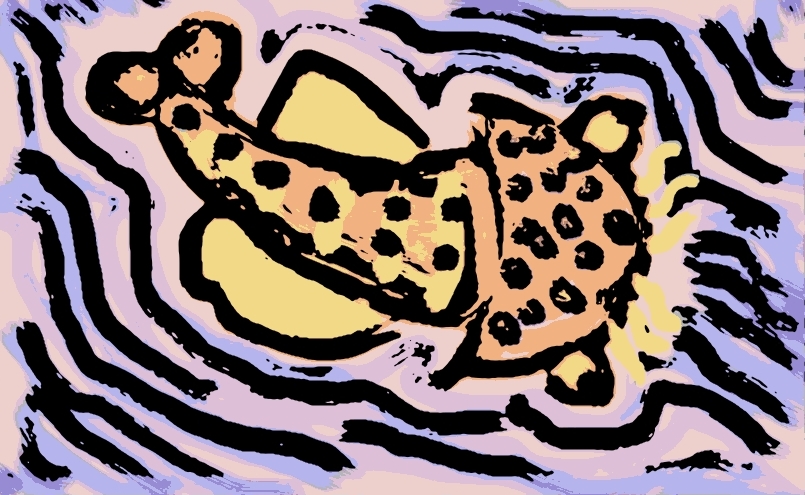 Catfish
Streams of blue swirling and turning,
each molecule assisting in the mighty throng,
droplets of hazy grey swimming for their future,
tiny living beings welcoming and splashing
a friendly foam—
and the fish is a symbol
teeming in the oceans,
befriending and helping
as miniscule creatures path their way home
while away glides the sea
there is one straining towards us,
taking on board our cares and worries,
leaving a wet façade of strength to hold
what otherwise the waves would scatter
bringing us into a crystal clear peace—
while days are long
the waters raise up a shout of acclamation.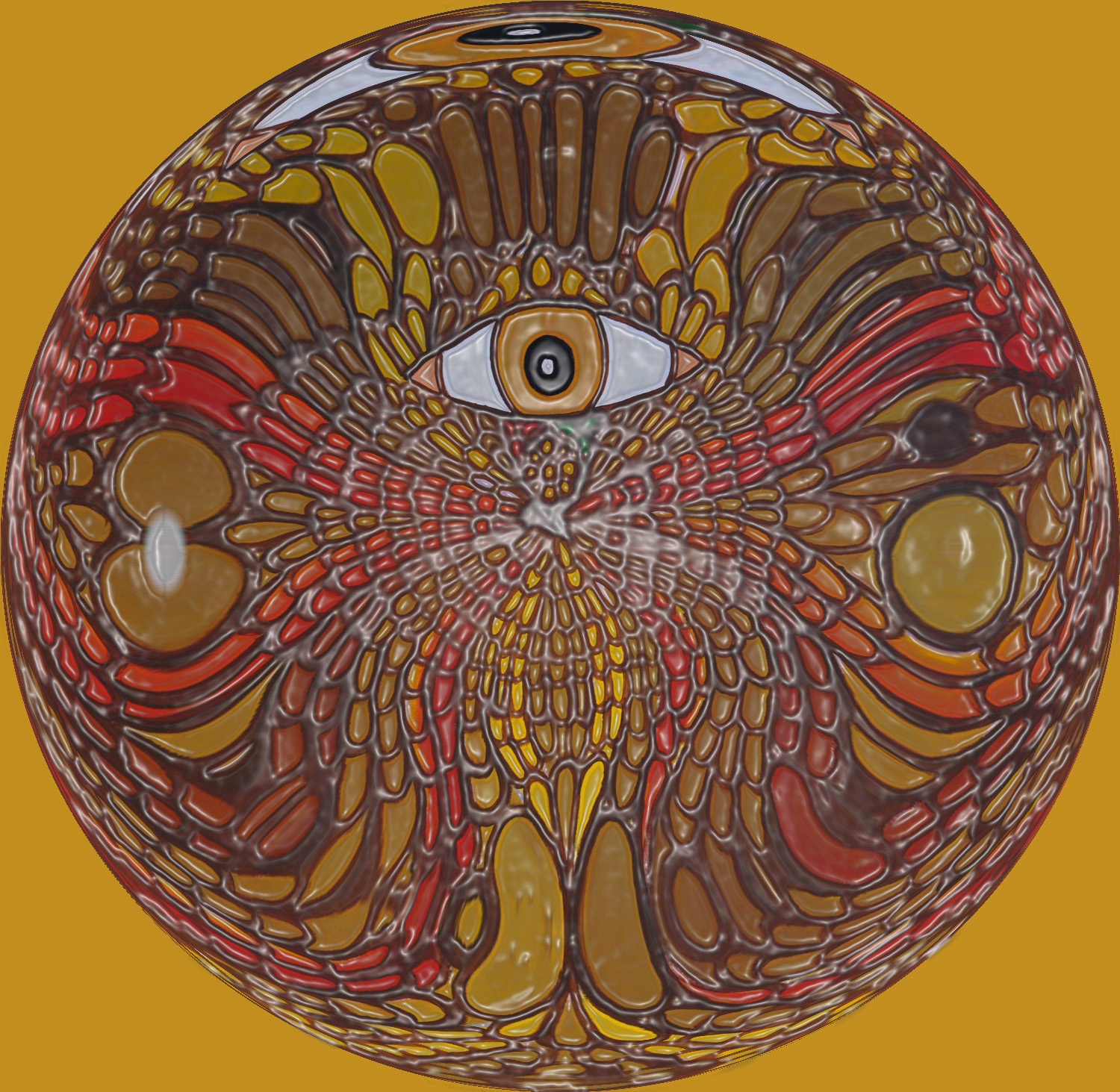 The All-Seeing Eye
A sky clouded over and dark,
tips of trees pointed skyward.
A gentle wind blows leaves
up and down, reaching for an event horizon.
Who knows where it will all lead?
Daily tasks becoming nightmares,
waiting to envelope us in their problem trees.
Why wait for the point of no return?
As hay moulders in the fields,
orange with straight lines thwarted
the hands are there to support us,
carry us and protect
so that we should know that
over and above
someone is looking
and knowing—
even the deepest despair
is within their care.
Look up and be glad.
---