wordsout by Godfrey Rust Occasional pieces for friends ←→ HOME
---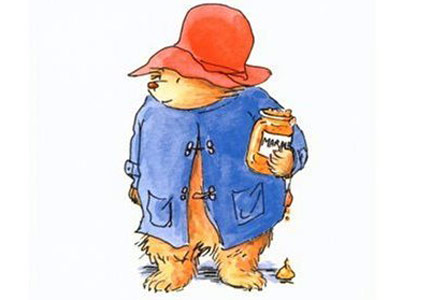 Paddington's payback
for Abigail Brown's fundraiser, June 2012
Many years ago
(or so the story goes)
a small bear came here from Peru.
It took up residence in London
with Mr and Mrs Brown
and their two older children.
They named it Paddington.
For years it caused them much disturbance
with accidents and untoward events,
giving hard stares to neighbours and local tradesmen
and staining everything liberally with marmalade.
Now it's time to pay Peru back.
Mr and Mrs Brown
have carefully prepared another child.
They named her Abigail, and she will make
Paddington's long journey in reverse.
It is not known what in what railway station she may be found
or what the chances are that she will yet discover
Paddington's alleged aunt Lucy in her alleged home
for retired bears in Lima,
but for this plan to be successfully concluded
your help is called upon, and here to tell you of it all
figuratively speaking I now tie
around her neck a luggage label
emblazoned with the words
Please look after this Abigail…
---
Read at Abigail's fundraiser for her trip to Peru, at St Johns, West Ealing, June 16 2012.