wordsout by godfrey rust
Eulogies 1 of 7 > < friends >
---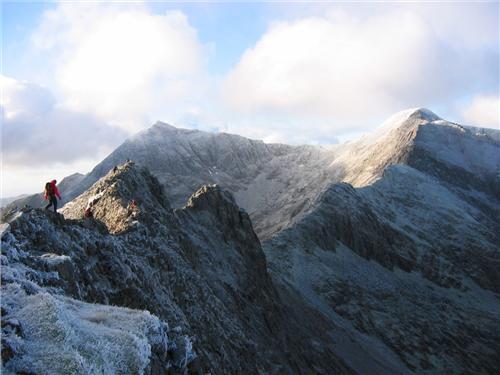 Climbing to Everest
for Geoff Longden and all Plasites
Such news that comes by email nowadays:
between something from Amazon.com
and a special offer for Viagra
your name leaped out from the subject line.
Thirty-five years it's been since that summer
we led at Plas-y-Nant—nearly as long
since we talked face to face. A few times
I tried to find you on the internet
but even Google couldn't track you down.
We'd lives to live out: youth was something gone.
We lost touch, but the memories were sealed,
wrapped up like butties for a Plas excursion
to munch on somewhere high on Glyder Fach.
In the leaders' room in Everest, you, me and Phil,
hatching tomorrow's plots. Who needed sleep?
And anyway it wouldn't be too long
till one of the staff came shattering our dreams,
the vengeful handbell clanging in our ears,
dragging us down to breakfast and the guests.
Birthdays and notices—Why was he born
so beautiful, why was he born at all?
Then down the drive to Whiteway's ancient buses
with Bob and Griff smiling at the wheel, their
living made
from our un-Welsh foolishness; one going left
for coffee in Beddgelert, and the walks—
Yr Aran, Tryfan or the Snowdon Horseshoe—
and one for the trippers turning right, through
Waunfawr
to Caernarfon and the coast: we must have
played
football on every beach in Anglesey.
Singing the silly songs—oh you'll never get
to heaven
In a Whiteways bus…depending on
which girl you've got your arms around,
of course.
Back for supper and daft Fun and Games,
romances on the Down and Up—pairing off
in the shadows on the bridle path—then singing
Goodnight Ladies, Shoo fly, Merrily
we roll along, roll along…until
the secret bean-feast on a Friday night
that everybody knew about, with Four
Strong Winds
sung slow and mournful at the very end
to send the guests reluctantly back home
to Bolton or the Wirral—I'll look for you
if I'm ever back this way; and the short climb
to the old hut of Everest, and bed.
There was religion too. You played along.
The childhood dose of dogma didn't take
in your case—a compliant anarchist,
you weren't too hot on creeds. Live and let live—
if the questions got too hard, put on your boots
and set out up a hill to walk it off.
How was your life's excursion? A strident "A",
with peaks and valleys, sometimes lost in cloud
or soaked in a hailstorm, longing to get home
but worth it for the blue skies on the ridge?
I doubt it was a stroll of a "B", much less
"C" Party to the seaside and the shops.
Well, summer's over now. You won't set out again
to lead the stragglers home over Crib Goch.
I couldn't go myself these days—no head
for heights,
though my son likes to scale a climbing wall,
and plays guitar, the same Paul Simon songs
I did at eighteen on those long gone nights
we talked and sang and dreamed in Everest.
I'm sorry you won't hear this, and I can't
be there to read it out for you—but hey,
you were never one to make a lot of fuss.
Here's my goodbye, from Big G to Little G.
No more plans to make. No mischief-making
staff
to break your slumber with that dreadful bell.
Goodnight, little big man. Up to Everest.
Sleep well.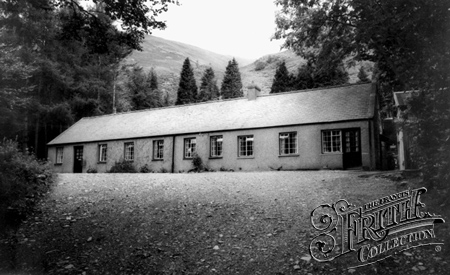 ---
Plas-y-Nant is a house just outside the village of Betws Garmon in Snowdonia, halfway between Caernarfon and Beddgelert. From (I think) the 1930s until sometime in the 1980s it was a Christian Endeavour Holiday Home to which each week in the summer up to a hundred people, many of them teenagers, would go for an activity holiday. People returned year after year, and eventually families into a second or even third generation of "Plasites": it was one of those communities that became a defining part of many peoples' lives. I went there over six summers, from age 14 to 19, in the last of them as an excursion leader with Geoff Longden and Phil Kennedy (below: Godfrey, Phil, Geoff in Caernarfon, summer 1972).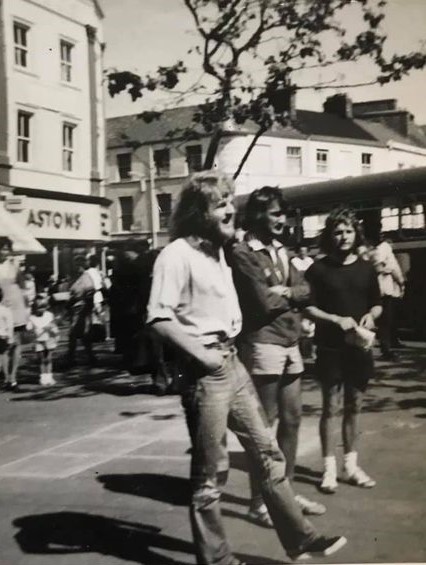 Everest was the name of the male dormitory, a long retangular hut on slightly higher ground behind the main house.
Crib Goch is the exhilarating ridge walk which forms the first part of the Snowdon Horseshoe, which was the "A" excursion every Thursday.
In 2014 Plas was a private house.
Geoff died of cancer in 2007. I was unable to get to Lancashire for his funeral: this piece was taken by Phil Kennedy and given to members of Geoff's family there.
© Godfrey Rust 2007, godfrey@wordsout.co.uk. See here for permissions.