wordsout by godfrey rust
< st john's ealing >
---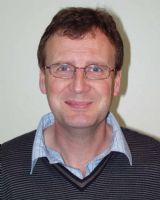 Where there's a Will
on the departure of St John's vicar Will Donaldson to take up a post at Wycliffe Hall theological college in September 2007
When the vicar goes
to the tune of "When the music fades" by Matt Redman
When the vicar goes all is stripped away
and the bishop comes
longing just to find someone that will fit
what the parish wants—
the job description is done
now the PCC waits
for applications to come,
but while the future's on hold
is there someone who cares
about the time in between?
Chorus
We're moving into an Interregnum
so it's all down to you,
yes it's all down to you, Sarah.
Mark's overworked,
Tom is oversleeping
so it's all down to you,
yes it's all down to you, Sarah.
Priest of endless worth—no-one can compare
with the one we seek!
He*'ll have a common touch, but be as good
as John Stott
at New Testament Greek
Mother Theresa reborn with the patience of Job
and jokes by Ricky Gervais,
and while this Superman** waits to make our
future come true
the present won't go away…
*or she **or woman
Repeat chorus

The Four Bald Men of the Apocalypse
to the tune of "Great is the darkness" by Noel Richards, performed by Godfrey Rust, Alan Reynolds, David Malindine and David Walton dressed like something out of Men in Black, with scary head slapping actions
Great is the darkness that covers the church
when leaders desert their own flock!
Curates are sinking in deepest despair—
youth leaders are reeling in shock.
But be not afraid! Do not fear!
The bald men with glasses are here!
Chorus
Be Bald—with glasses!
Be Bald—with glasses!
This is the trend of today!
Be Bald—with glasses!
Be Bald—with glasses!
Obey us or else there'll be hell toupée.
Trendy young curates with spikes in their hair
and jeans that hang down to their knees
can't cope with the pressure when faced with
the storm,
we're so much more streamlined than these!
Maturity rests on our brow—
so witness the spectacle now!
Chorus
We hold all the purse-strings, we choose all
the songs
we're wardens of wisdom and worth—
we patiently type in our laptops until
the geeks shall inherit the earth.
Girls can make coffee (that's fair)
but women have far too much hair!
Chorus
Where there's a Will there's a way!
a steady 4/4 Country talking blues
He was 6 foot 2 and a hundred pounds
when he drove out of Bristol and he put that hammer
down
as the M4 burned beneath his missionary zeal.
He'd turned the inner city inside out
but now the time had come and he had no doubt
he had London's leafy suburbs in his gaze of
godly steel.
He was a caring man with a heart of gold
and he tended the sheep in his little fold
with a patience that could make Fidel Castro
shave.
With a gentle case of religious mania—
an appointment with a dentist from Transylvania—
fangs for the memories you gave!
Now nine years on and he's leaving Ealing
and he hasn't aged a day, though I'm now
revealing
there's a picture in the attic that looks like
Dorian Gray.
His hair's still black, he isn't any fatter
it's more than mind working over matter
cos where there's a Will there's way!
He was a "can do" man every working day,
he saw the glass half full (mostly anyway
except when having working lunch
at the Rose and Crown).
He had the "vision" thing to keep his eyes on,
he'd fix his gaze to the far horizon
and said You only see the doggy-do
if you're looking down.
And late at night you'd find his head in a book
with his pencil poised and that puzzled look
while the sermon deadline slowly ticks away,
but any needy person, when their life's not right
can ring his front door bell, any day or night
(though he'll usually be off on holiday).
Everything he did he did with feeling—
put the boot in the football and the Soul
in Ealing,
rebuilt the crypt and the money was OK.
He said The cash will come with a lot of prayer!
(though it helps to have a warden who's a
millionaire)
and where there's a Will there's a way!
He was a sporting man it was plain to see,
believed in muscular Christianity
(though where the muscles were wasn't
always very clear).
He'd think a Lord's day would mean a game
of cricket
and if his team is going to play and he
doesn't have a ticket
he'll go hang round Wembley just to get the
atmosphere.
Still he's not content to be a mere spectator
And in spite of his skills as a negotiator
he couldn't a find anyone who would ever let
him play.
So he started a team so he could then play in it,
he began a League so they could go and win it—
where there's a Will, there's a way!

Though he loves his work he has a secret dream
that one day he could manage a Premiership team
would he swap his job for Fergie's, who can say?
Though he believes that the Lord is coming
soon he
finds the quickest way to heaven is a goal
by Wayne Rooney
and where there's a Will there's way!
He was a quiet man with a ready smile
and he spoke in a careful, measured style,
he never raised his voice except to say
Come on you Reds.
When he preached he would sound as if in
a dream
like the murmur of some distant stream
(though he might murmur quite loud to get his
kids out of their beds).
Like a refugee from a different time
where to be polite was not a social crime
he was gentle man (except at a Chelsea game).
He'll treat anyone as a sister or brother
'cos he's always forgetting something or other,
he forgot to bring his ego when he came.

He's built up the church with spiritual gifts—
we never did get that wheelchair lift
but we can prophecy and get pictures when
we pray,
and 'cos speaking in tongues makes
some people nervous
he calls it the Burmese and the Arabic service
for where there's a Will there's a way!

You think a 3 point sermon and an old school tie
would be a barrier about ten miles high
but selflessness can blow it all away.
From the world where there's honey still for tea
to be a child of the 21st century—
where there's a Will there's way!

He was a family man and would not deny it,
he got his work-life balanced like a well-planned
diet
with Ruth James Ellie Katherine and Jazz and Ben.
He was secure if he was criticized, because
he knew exactly who he was
(even though he forgot where he should be
every now and then).

Well now we've lost our Will, we'll soon be
robbed of Joy,
like a child without our favourite cuddly toy,
and we're going to be Ruthless every day.
And while Sarah laughs and Thomas doubts
and Mark reads and learns what leading's all
about
your family leaves a gap that won't go away.

We'll miss your grace, we'll miss your humour
(some say they'll miss your preaching but
that's just a rumour),
we'll miss the love you gave us every day.
Your faith in God brought us together—
you left us with a lesson we will keep for ever—
where there's a Will there's a way!
---
Will Donaldson's farewell event (September 22, 2007) featured, among other things, the first two songs above, followed by a talk (by me) with a powerpoint presentation allegedly previewing the course Will was going to teach on "how to be a vicar", based on his experience at St John's. The song "Where there's a Will there's Way" was the finale.