wordsout by godfrey rust
< colleagues
---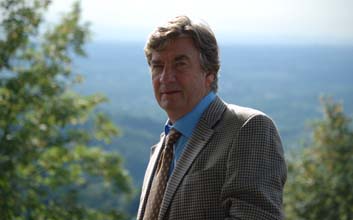 Wingco, RIP
for Tom Bradley, on his departure from MCPS to EMI Music,
July 1995
Well there's silence in the mess today,
the squadron's sunk in gloom
and along the fifth floor curtains
have been drawn in every room,
and the smiles die on their lips with every
joke they try to crack,
for WingCo took his chopper* out
and never brought it back.
No more the skies of Europe
will be darkened by the drone
of WingCo dropping EMROs
over Paris or Cologne.
Messrs Tournier and Kreile
have a lightening of their load
since WingCo went and bought it
over Charing Cross Road.
In Lorenzo's now the crew can only
sit and mourn his fate
as they push their parma ham
and carbonaras round the plate
and wonder how it is
that members should have done their worst
to the man you could be sure
would always put his member first.
And the squadron's feeling squiffy
when there's battle to be done
and there's Crispins nine o'clock high
coming at you from the sun
for the Callenders change daily
and their fire goes anywhere
but no firm hand's on the trigger
now that WingCo won't be there.
Perhaps it was the risk
of starting ServiceCo again,
or perhaps it was the pressure
of beginning work at ten,
or perhaps it was those talks
about PCs with Barry Hitchin
but he couldn't take the heat
and so he got out of the kitchen.
But though he's gone, the lesson
that he taught will surely stick,
that only one thing counts, to which we all say
"That's a tick":
Resources? Training? Expertise?
No, WingCo's legacy
is that everything was just a matter
of priority.
So his friends all shake their heads
and say they'll surely miss him badly,
and his managers admit they'd have him
any day, and gladly,
and downstairs they wait for walkabouts
that never came, as sadly
on each floor of Elgar House the cries goes up:
Who was Tom Bradley?
---
Read at a restaurant somewhere in London at Tom's farewell lunch, July 27th 1995.
*One of Tom's hobbies was flying helicopters.