wordsout by godfrey rust
< st john's ealing >
---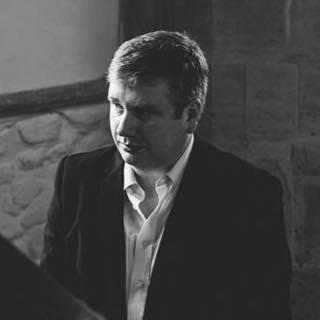 The Phantom of Tom Callister
(Let him go...)
for Tom Callister on his departure from St John's after 300 years at St John's, in July 2014

The Phantom of Tom Callister
to the tune of "The Phantom of the Opera", obviously
In sleep he sang to me
in dreams he came
as I was dozing at St John's at Ten,
and I daren't sleep again for now I find
the Phantom of Tom Callister is there—
inside my mind!
He sings me worship songs and songs like these;
he strains his vocal chords, he pounds the keys his voice like Banderas (or Susan Boyle)
the tenor of Tom Callister is here,
needing some oil.
But when I look for him he can't be found,
and all that's left of him is just that sound:
I hear Lloyd Webber, I hear Tim Hughes
but the Phantom of Tom Callister's not here—
he's on a cruise.
Though he seemed doomed to stay for all his days
at last he found a way out of the Maze.
It's evolution now—that's what I think:
The Phantom of Tom Callister's become
the Missing Link.
Let him go
to the tune of "Bring him home" from Les Miserables
God on high hear my prayer:
in my need you have always been there.
He's not young: we're afraid
for the future that he's made
but let him go,
let him go,
let him go.
Life can be harsh, life can be dark
like a Wednesday night in November at Villa Park,
so may he have his own boat
and every year a brand new Nissan Note—
let him go,
let him go,
let him go.
All the young dudes of West 13
pass through MacDonalds where he's been.
They come, they grow, they quit the scene,
but he'll go on, his faith won't flinch—
his waist expands another inch.
For all he's done for Ealing's yoof
we stand aMazed, ain't it the gospel troof.
And all things change—hard to believe,
even Tom Callister sometime must take his leave.
It's not goodbye but it's adieu
and we thank God and we thank you
and let him go
let him go
let him go.
---
Sung and played (rather badly on the piano) at Tom's leaving do in the Lounge at St John's, West Ealing on July 19th, 2014. Tom had been at St John's since he was a toddler, and had never worked anywhere else, as music co-ordinator and later Youth Worker for the Maze youth congregation (also known as Links), which he played the leading role in (taking over from Joy Atkins - see Ode to Joy). In hislast years atSt John's he also trained to sing music theatre and developed something of an obsession with "Phantom". The first time he unleashed this new voice onto an amazed St John's audience he sang "Bring him home". Tom's parents run a boat business and go (with him) on regular luxury cruises. I worked with Tom as a fellow music leader at St John's for fifteen years or so, he was a colleague of my wife Tessa during her three years on the staff there, and an important and positive mentor for my son Adam when he was a teenager. He is now becoming something of a musical theatre impresario and continues to work with Adam on music projects. A good and much-loved man.