wordsout by godfrey rust
< st john's ealing >
---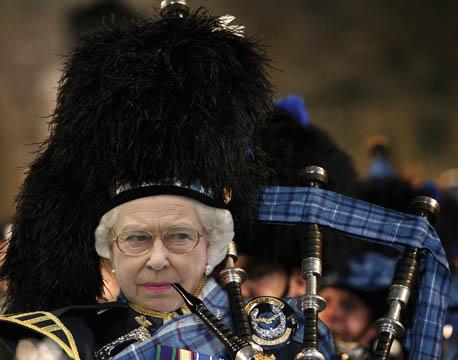 Homage to Bonnie Scotland
for Burns Night 2007, pioneering the musical genre of the
Scottish Calypso
Ach when I was a wee wee bairn
my mammie said to me
"We're going to move from England
to a big hoose by the sea."
She said "Ye'll like the people fine
and ye needn't have no fears,
and ye'll learn to speak the language
in a couple of hundred years!"
Oh Bonnie Scotland, my hame from hame,
my spirit swells like a well-cooked haggis
at the sound of your very name.
I left my heart on the Firth of Clyde
and when I came back to get it all the wheels
had gone
and the radio was not inside.
It's a land of gae great beauty
of the loch, the cairn, the ben,
and its scenery is talked of time
and time (and time) again,
and when I hear a Scot in Exile
singing praise to their land so green
I feel the pain right from the Trossachs
all the way to Aberdeen.
Now the wailing pipes of Scotland
have a rich and plaintive charm
as the lone piper walks the battlements
wi' a dead pig under his arm
and we see the pipe band coming
all kilted and well groomed
and when they pull out the music for Mull
Of Kintyre
then we know that we're all doomed...
Oh Bonnie Scotland, your culture's rare—
like a goal from the Scottish football team
or a comb through Rod Stewart's hair.
For your next icon we hold our breath—
who can follow the Bay City Rollers,
the Krankies or Macbeth?
And the Scots are great inventors
it's very plain to tell
and we owe the greatest debt to
Alexander Graham Bell,
for it only took a century
of his telephone so fine
to drive the English mad with ring tones
on the Piccadilly Line.
Ah Bonnie Scotland, James Watt did dream
of the wondrous things that a man could do
wi' a kettle and head of steam.
Thanks to these men's ingenuity
we can call each other up and say
"Will ye no come round for your tea?"

Now poor downtrodden Scotland
has a bloody history
of Bannockburn and Culloden
and the struggle to be free,
and while they wait for the return of
William Wallace and the Bruce
they've not made peace with England yet,
just a 300 year long truce.
They tried to make rebellion
in 1745
but the Young Bonnie Prince Charlie
only just got oot alive,
and now you need a new Pretender
so I'll tell you what we'll do—
we've a spare Prince Charlie here that you'd
be more than welcome too
Oh Bonnie Scotland, Scotland the Brave!
Where a man's a man for a' that,
and even the women shave.
From England's yoke ye'll find relief
wi' a bravehearted Scottish hero like
Mel Gibson as your chief.
But though you sheathed your claymores
and put your shields away
it seems you've conquered England
in a democratic way
for in London Toon there's Gordon Broon,
and if you kick him oot
you've a Cameron or a Campbell—
so whit's that all aboot?
Yes have your cake and eat it,
that's the Scottish way to deal
(and you can eat your weight in starch
in just a single evening meal)
so take the Act of Union
wi' a pinch of salt at best
and be British when it suits you
and be Scottish for the rest
Ah Bonnie Scotland, I must end my lay
Caledonia, we'll never own ya
in any feeble English way,
and if my song has caused offense you know
then blame the vicar here, he's called Donaldson—
he'll meet you in Glencoe.
---
Performed at a Burns Night supper at St John's church, West Ealing in January 2007, after the haggis had been consumed.