wordsout by godfrey rust
< ealing eagles >
---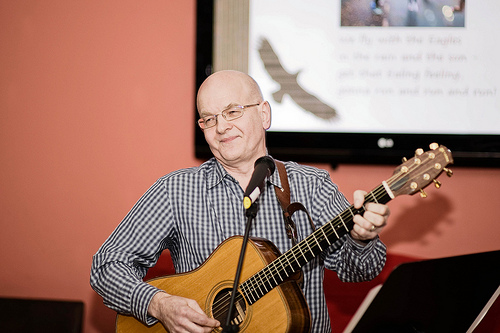 Fly with the Eagles

a calypso for Ealing Eagles Running Club at its Christmas Party, 2012 watch video

Well I was walking around in Ealing town
one wint-er-y Wed-nes-day night
when this crowd I seen on the Ealing Green—
it was a most amazing sight!
They were gathered here in all sorts of gear,
look like a lesson in natural selection
and then they stretch like this and they stretch
like that
and then they run off in every direction.

Well there was a lady fair who was waiting there
so I asked what's this you're in-ter?
I couldn't make out much, she spoke
Double Dutch
at the speed of a Jamaican sprinter
She said we do it every way, we have a good 10K
and if you like them you can do whole halves,
and we always have a tail when we trail
don't bail—
take the pressure off your quads and calves!

She said you need a good PB and a Technical T and in the winter it's a Hi-Vis vest,
and there's no real harm in a top-spec Garmin
but some people like it naked best.
I said it sounds absurb and all these words
they are racing around my head—
won't you just tell me what is it you do?
And this is what she said...


We fly with the Eagles
in the rain and the sun—
Get that Ealing feeling—
gonna run and run and run!
Get that Ealing feeling—
gonna run and run and run!

I said so that is it, you like to jog a bit,
well I meet many kinds of crazies,
and she just stood still but if looks could kill
I'd be pushing up the daisies.
She said I realise that exercise
for you might be a shock
so let me tell to you about the people who
make up our little flock.

Now the record for the marathon
it has just one careful owner,
he has Spanish style and a great big smile
and he come from Bar-tha-lona.
He'll run any race in any place
come rain or wind or shine
and do the Parkrun in 17 minutes
after 17 glasses of wine.

But while we all can say in a definite way
that his running is perfection,
we must admit he's not such a hit
when it comes to his sense of direction,
and you'll always hear every marshal's fear
when our hero comes their way
and in the 29th mile of a marathon
they all shout "Wrong way José!"


We fly with the Eagles...

And if you're looking for an ultra king,
look no further than young Piers—
he's gonna run a hundred marathons
if it takes him a hundred years,
and one day he'll put us all to shame
when he finishes a hundred miles
without being stopped by blisters
or those most uncomfortable pains
in other places.





But of all his great achievements,
there's no doubt which is the best—
when he hits the streets of London,
he's not wearing the Eagles vest,
and don't go thinking that it's just 26 flat miles, that it's really not so long—
Piers runs to Chafesville, Arizona*
when he wears that mara-thong...


We fly with the Eagles...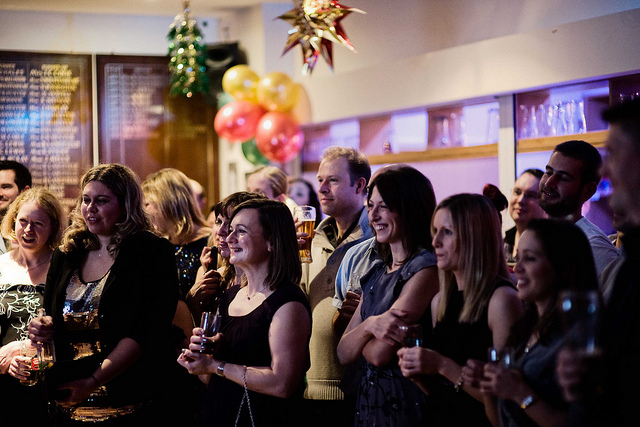 Well we're totally multicultural,
there's Eagles from every land,
they're counting stretches in all the languages anyone can understand,
but there's one nationa-li-ty
whose proportion-a-li-ty
keeps growing hour by hour—
they're always Dublin up their numbers—
let's just call it Paddy Power

And we love equal opportunity,
but a man can find it hard to take
when with easy style in that final mile
a fast woman leaves him in her wake.
He might grow a 'tache and try to cut a dash,
and do everything he can to train
but they still raise a cup when the cheer goes up "Kieran Santry's been chicked again!"

We fly with the Eagles...

Now there's a glamorous queen of the
social scene
so if you feel the need to mingle
Jane fills a house or flat with Eagles just like that from Brighton all the way to Dingle!
Drinking beer and wine around the Circle Line, making everybody feel all right—
but if you want some more join the real hardcore at Nigel's on a Saturday night.

And there's a quiet man who had a great big plan,
he likes doing things by halves,
with a hundred loos and lots of times to choose
and 4000 pairs of aching calves.
But when the race was through there was
a big to-do
and claims of misrepresentations—
but save your lawyers' bills - they're not runners' hills, just Walker's Undulations!

We fly with the Eagles...





The Olympics were a great success,
and here's something you will find—
in every photo they show of Usain or Mo,
there are Eagles sitting right behind.
Now I'm not saying he's a dealer,
I'm not saying he's a tout,
but if it's your in-tent to see the Last Judg-ment then Martin will sort it out.

And now the Eagles stand in every foreign land and they'll get home in every way
and if they want to join then we Cram them in
and they're Haile pleased to stay.
We don't mind what you wear or if you have
no hair
but let me give you some advice—
don't take Sandra near a postbox
and don't take Judith on the ice...

We fly with the Eagles...

But of all these soaring Eagles,
one is our super-hero,
he's half Moroccan and half Belgian—
El Guerrouj meets Hercule Poirot.
He sets himself no limits,
he shoulders any load,
and he makes no fuss if a London bus
tries to race him across the road.

Well you can crush a person's body,
you can break his bones apart
but if the spirit's right (and with some
Scottish fight)
you will never break his heart.
So this saying true I give to you,
like an exercise for your core—
Pain is temporary,
Rachid lasts for evermore!


We fly with the Eagles...

Now there's a hundred more I could tell before you could ever understand
about come-on-Arlene the Parkrun queen,
or Flatfoot's feet or Yan the man,
but time ticks by and Eagle throats get dry
so I won't keep you too long,
I'll put them away for another day
and perhaps another song.

And so you see how I came to be
saved from athletic ruin,
why they're the talk of the town when the sun
goes down
from Crispin's to the New Inn.
And I will just say this to Alan and Liz,
our founders and our hosts:
you've three children now and it's clear somehow which one needs changing most!

We fly with the Eagles...
---
* This phrase stolen from Flatfoot Dave on Facebook.
Written originally for Ealing Eagles (www.ealingeagles.com) third Christmas party at Ealing Tennis Club, December 1st 2012. Subsequently made as a "studio" recording in my alter ego of RustaMan with audio and arrangements by Adam Rust, visuals by Paul Thomas and the vocal and visual backing of the Fabulous Eaglettes: Judith Earnshaw, Sandra Courtney and Arlene Gallagher. The live and video performances contain lots of Eagles photos which explain some of the more obscure references, but for non-runners (or non-Eagles) this is among the most esoteric nonsense I have written.
For the record, all of the following was true at the time of writing in January 2013:
The [Single] Dutch speaker is runner and coach Nanda Griffioen, "Trail Don't Bail" is the Eagles Saturday morning trail run. Most Eagles runs have a "tail runner" to ensure no-one gets lost or left behind. A PB is a Personal Best, a Technical T a t-shirt, a Garmin is a type of running watch. "Running naked" means running without shoes, watches, iPods or other technology.
Club marathon record holder Jose Pabon was repeatedly sent the wrong way by marshals in races in 2012, on one occasion running a 30.8-mile marathon.
Piers Keenleyside ran the London Marathon (twice) wearing only a mankini and running shoes, and at the time of writing has completed 63 marathons, with the goal of completing one a month until he has done 100. He several times attempted a 100 mile race, only to be frustrated at around 70 miles or so by blisters and other abrasive disorders.
Kieran Santry (also known as St Santry or President Santry, despite the club not having a President) is the spiritual leader of the unaccountably large Irish membership of the Eagles. For some equally inexplciable reason, there is much glee whenever Kieran is beaten in a race by a woman ("chicked").
Jane Armstrong is the club's social secretary, and Nigel Panton the host of some of its more outrageous parties.
Kelvin Walker was the Race Director for the hugely successful first Ealing Half Marathon in September 2012, classified for advertising purposes as taking place on an "undulating" course, a description which would surprise any resident of the Himalayan slopes of Pitshanger and Hanwell. The EHM goes from strength to strength under Kelvin's direction and with a full-time Event Co-ordinator in the guise of Fabulous Eaglette Sandra.
Martin White sourced and supplied countless tickets for events at the London Olympics.
Sandra Courtney took the club passion for being photographed with local hero Mo Farah's gold postboxes to extremes, and club secretary Judith Earnshaw followed in the fine tradition of random inappropriate injuries among members of the club committee by breaking her wrist falling at a club social event at a skating rink.
Rachid Afouzar survived being knocked down (through no fault of his own while walking to work) by a London bus in February 2012, breaking all his ribs, skull, shoulder, losing half the blood in his body and the hearing permanently in one ear: his heart stopped for several minutes and his life was only saved by the speedy action of the London Air Ambulance helicopter crew which took him to St Marys Hospital. Six months later, still not able to work or balance properly and often having to spend all day in bed exhausted after a training session, and with his longest training run being 8 miles, Rachid ran the Berlin Marathon in a personal best 3 hour 5 minutes. By a splendid coincidence both the pilot and doctor who saved his life turned out to be marathon runners. Rachid is running three marathons (Berlin, Marrakesh and London) for the Air Ambulance charity. Both the doctor and Rachid's running motto, which Rachid has on a T-shirt, is "Pain temporary, glory forever'. Rachid's partner Eileen is Scottish, hence the Caledonian reference. Typical of the Eagles' spirit, 28 club members went to Marrakesh with him to run and/or support, as well as his Air Ambulance partners and other non-Eagle friends.
Arlene Gallagher was the driving force behind starting the weekly Gunnersbury Park Parkrun, Flatfoot Dave Kelly is the club's legendary barefoot ultra-marathon runner, and Yan Tsakpounidis a quiet hero who runs a mean marathon and epitomises the club's spirit of selfless volunteering.
The New Inn is a splendid Ealing hostelry which hosts club socials and meetings, and extends great generosity towards the club in return for its patronage.
Alan and Liz Brown founded the club in 2009 with a couple of other friends as a social running club meeting once a week at Ealing Green (still the "clubhouse"), and in the first year there would often be a single person (or none) on some weekly club runs: on its third birthday it had over 300 members. Alan and Liz have two "normal" children, apart from the Eagles. Alan is club Chairman.