wordsout by godfrey rust
< st john's ealing >
---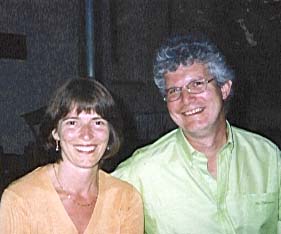 The Secret Diary of Ian Fishwick, aged 433/4

for Ian Fishwick, on his departure from St John's in May 1998, transcribed from the original Hebrew

Translator's Note: some of the dates in this diary may appear slightly wrong or even wildly inaccurate but this is only because the author used the traditional Babylonian method of dating. The traditional Babylonian method of dating, by the way, was to hang around the Hanging Gardens all afternoon, hence the derivation of its name.
Jan 1 1993
Feeling restless. Am now 38 years old, though still have fine head of hair reminiscent of Kevin Keegan in his heyday, and great tan thanks to lots of holidays in Turkey, but somehow life has seemed empty and meaningless ever since Arsenal became League Champions. I think I need a new challenge.

Feb 3
Decided I will take family to London for long weekend break. Realise it may mean severe coolture shock for kids brought up on diet of black puddings, cloth caps, Coronation Street etc but feel it will broaden their minds. Today's bible reading is Jonah. Find this prophetic. Have vision of being called to save wicked cities like Jonah in Nineveh. On spur of moment decided to go out to get fish and chips for supper.
Feb 5
Checked with passport office. Surprised to learn you no longer need a visa to go south of Birmingham. The European Community has done some good after all.

Apr 4
What an extraordinary and life-changing weekend this has been. Took wrong turning off A40 and got lost deep in London suburbs. Drove past what I assumed was derelict Victorian church with clock mysteriously and prophetically pointing to midnight, but at last moment saw a tiny piece of paper behind the cobwebs in the corner of noticeboard outside saying Open Church so went in to ask directions. Once inside I was amazed to find lavish, re-ordered church and friendly but serious group of people sitting talking round a table in the lounge. They immediately welcomed me with cup of coffee, pressed me to sit down and began asking me all about myself. I assumed this was just a rather over-zealous Open Church welcome team but on reflection had I paid more attention to the balding chap dressed in purple and the presence of someone everyone kept calling Archdeacon I might have realised this was the selection panel to find a new vicar. It was all going fine until I told them I had lived in Widnes and had a ministry for healing, but they thought I just had a cold and was saying I had lived in witness and had a ministry for Ealing, and they offered me the job on the spot. So I have become Vicar of St John's Church, Mattock Lane. It is not what I'd expected at all. After reading Jonah I was convinced God was calling me to work in Wales.

Jun 14
Met my new staff. The curate, John Hereward, is an odd sort of chap. Nice enough, but with Worzel Gummidge hairstyle and apparently wears sandals even in the middle of winter. Wonder, very biblically of course, if he may be John the Baptist brought back to life. I peeked in the church safe but couldn't find any locusts or wild honey behind the communion wine. One things certain, they're a foony lot down here.

Aug 5
Found out that I am also vicar of another church, St James, as well as St Johns! Apparently it had been completely lost for years following the introduction of a new one-way system in West Ealing, but was re-discovered one day by accident by a member of the PCC looking for somewhere to leave his Ford Sierra when Sainsbury's car park was full. It has its own congregation and everything, but I have to go there whenever they want to have a communion service as the chap in charge doesn't seem to have passed his exams or something.

Sep 22
Alarmed when flash-looking skinhead in matching turquoise shirt and tie pushed his way aggressively into the vestry this morning but it turned out only to be one of the Elders, Mark Sheard, dropping by to say hello.

Oct 24
We have such a wealth of musical talent here at St Johns! We even have a pianist who can play in keys with more than two flats, though of course the guitarists aren't able to play with her. There's one entire family who all seem to play instruments all the time. I was sure the mother said her name was Weeks but I must have been wrong as the rest of the staff call them the Von Trapps. Decide to start practising my saxophone again. One day I'm sure I can be as good as Bill Clinton.

Nov 6
Another revelation. Today I heard noises in the crypt and bravely went to investigate. There I found a small, dark, hairy creature scurrying around. It seems his name is Gary and he works here as the caretaker, but is entirely nocturnal so only comes out in the evening. Apparently he used to live a more normal life, but after so long underground his eyes can no longer stand daylight so like a mole he has to wait until after dark to gather up the discarded notice sheets and uncompleted covenant forms. He lives next to the SNIPS kitchen in a large, secret storeroom which is entirely filled with relics from St Johns' past. I suspected some form of idol worship may have been going on but discovered he is a Baptist so now feel more compassionate.

Nov 14
This place is obviously cool and trendy so decided I must work hard on my street credibility. In particular mustn't let anyone know my middle name is Norman. Called travel agent to book half-term break in Tunisia. Have to top up my tan.

Feb 17 1994
Spoke to Bishop Graham. He says we need to be more Anglican. Will reflect seriously on what this means.
Mar 1
Decided that the key to being more Anglican is to have a lot of Church Councils. Am going to abolish the elders, who are not Anglican at all and some of them have been even been baptised twice. Have now set up a DCC as well as a PCC. Proposed an MCC but was told there already is one and its some thing to do with cricket, which is of course a sissy game played mainly by sootherners. Will suggest a WCC with specific responsibility for the church loos.

Apr 5
Decided reluctantly I needed a haircut so visited SNIPS today for the first time. Serious shock. Had always thought it was hairdressing franchise and now discovered entire crypt is overrun with three year olds eating jacket potatoes.

Sep 16
John the Baptist told me he had been in much pain over St Mellitus. I offered my sympathy, assuming this to be a chronic and embarrassing medical condition which he had acquired in Hong Kong, but it turns out that it's a church nearby with an ageing congregation who have invited him to be vicar. Having witnessed John's bedside manner at funerals I think he will be very suitable. John said would I mind if he took a few of St Johns congregation with him. I said certainly and I would give him a list of those he could take by the end of the week.

Nov 8
Serious negotiation with John the Baptist about who goes to St Mellitus. Sorted most of it amicably but it came down to horse-trading over the musicians. He said he needed at least two worship leaders but he could leave me Steve Taylor as Hanwell has a bye-law which provided for 6' 6" maximum clearance on their front door. I said he could have the pianist who could play in more than two flats as long as he also took all the drummers and all copies of the music for O Lord I Really Want to Praise You set to the tune of La Bamba. I clinched the deal by throwing in the loan of the music group's maraccas every third Sunday of the month. Tan is fading fast. Booked a midwinter break in Canary Islands.
Feb 19 1995
Answered the door to a scruffy, dangerous-looking chap who reminded me of rhythm guitarist in Status Quo. Said he'd come about the job so I was about to show him the rubbish that needed clearing from the back garden when he announced he was a clergyman who was interested in running St James. I decided he would add street cred, and didn't feel threatened as he had a no tan to speak of. I wonder if Kevin Keegan ever tried to grow his hair into a pony tail?

Mar 15
What a professional place St Johns is! Looking round the congregation while John was preaching I counted seven accountants, four lawyers, six doctors and twenty-nine people who do something or other with computers. How odd it is that we can never get the PC in the vestry working properly.

May 6
Woken by phone call from police saying that a vagrant had been seen in the church garden waving around a dangerous weapon apparently at random. Assumed it must be someone loose from the soup kitchen, and rushed down only to find Enid thrashing about in the undergrowth in an old sun hat wildly clutching a pair of secateurs.

Jun 3
Today I met the new curate, Mark Bratton. Very personable chap, younger than me, and single. Good looking too, in a boyish sort of way, though it's a shame about the hair, and hasn't got any sort of a tan to speak of. Seems awfully keen on the Early Church Fathers, about whom I know very little and who all seem to have names from Chelsea's midfield like Eusebio and Inclement. He spoke tremendously eloquently and with a very precise use of vocabulary. I didn't have a clue what he was talking about.
Sep 5
The long campaign to recruit children's work leaders has at last borne fruit! After weeks of pleas for the pulpit, pastoral letters and ultimately the use of our secret weapon - Angela Cooper standing by the front door and giving people hard stares in the manner of Paddington Bear (though without the marmalade stains). When the children left for their Buzz Groups this morning they had a full complement of leaders, trainees, helpers and parents on support rota accompanying them downstairs. After they'd gone I preached my sermon to the three remaining adults.

Sep 6
The un-cool middle name problem has put into a new perspective on discovering that Mark's middle name is Quinn. Only Quinn I know is Doctor Quinn Medicine Woman on daytime TV so maybe Norman is not so bad after all. Wonder if shortening it to Noz would be considered cool? At least my parents didn't call me Norman Ian Fishwick. I would probably have been known as Niffy.

Sep 7
Today I met our new trainee ordinand. Her name is Gill Dallow, and apparently she runs London Bible College. Our first meeting was a little unfortunate as I tripped over her when entering the vestry. She seems nice enough, although Welsh.
Sep 30
Mark did his first baptism today. Not bad, though a shame about forgetting the baby's name and leaving the Bible in the vestry.
Oct 12
Some embarrassment when Johnny roller-bladed into church this morning. My conscience (Enid) comforted me saying it was not as bad as when Mark Sheard organised a cricket match down the aisle during a family service. Foony lot these southerners.

Oct 28
Mark's second baptism service. Definitely improving. He only dropped the baby once this time and lit the candle at the right end. He should be ready for a wedding by next July at this rate.

Nov 18
Mark's third baptism. Almost a triumph, but unfortunately spoiled it at the last minute by leaving the baby in the vestry.

Nov 27
Church Quiz night. Staff severely embarrassed to be beaten into eleventh place behind the team from Scramblers. Mark was seething that the promised round on the Early Church Fathers never materialised.

Jan 14 1996
Timed this morning's service. Find that we have 23 minute sermon, 15 minutes of music and prayers and 37 minutes of notices. Must find some other way to deal with them.

Jan 23
Staff meeting considered Notices problem. Rejected my idea of putting Sandwich Boards on David Rutter and have him walk round the Lounge with a bell calling Hear Ye Hear Ye during coffee. Was told it could have a damaging effect on Traidcraft sales. Decided to take radical view of not having any notices at all but relying on people reading the pink sheet. Everyone looked at me very strangely when I suggested this.

Feb 3
Doorbell rang at 3am. Thought it was local vagrant but turned out only to be Gill looking for her church keys so she could go and do some photocopying.

Feb 12
Visited Little and Large to meet with some of the young mums, but found to my amazement it was now attended by six nannies, four au pairs, one grandparent and a couple of dads being househusbands while their wives followed careers in the city. The only young mum there had just taken a couple of days off work to have her third child and re-grout the bathroom. Went back to prepare a sermon on male-female relationships in the new Millennium but found Gill Dallow had already written it.

Feb 17
Another unfortunate computer error on the service sheet today. The words for the worship songs got completely scrambled and the first chorus came out as I Will Raise My Lift To Zion And Just Really Really Magnify O O O. The strange thing was it seemed to fit the tune perfectly well and everybody sang it quite happily.

Feb 20
Several members of the congregation commented on how much they enjoyed the new worship song on Sunday.

Feb 23
Spring Harvest rang up wanting to publish I Will Raise My Lift To Zion in their next songbook.
Feb 28
PCC considering I Will Raise My Lift To Zion as Britain's Eurovision Song Contest entry for next spring.

Apr 14
Meeting with Church Treasurer, David Conacher, who like all Church Treasurers by constitutional requirement has to be Scottish. This man is the rock on which St John's finances rest. After twenty-seven years of quiet and diligent research he has finally discovered a method of covenanting whereby the church actually receives more back in tax from the Inland Revenue than the congregation ever earned in the first place. I now understand David's permanent quiet, laconic smile, and his frequent holidays in Barbados. That reminds me, I must book up my Easter break.

Apr 25
Introduced new Morning Service book today. For Communion Services there are still four alternative Eucharistic Prayers. The first one is the regular one, and the other three are each shorter than the one before for when the service is going on too long. They are now known as Eucharistic Prayers Mark 1, 2 and 3. Mark 1 is for when Mark Rand has to give an announcement about the parish weekend. Mark 2, which is even shorter, is for when Mark Sheard is preaching. And Mark 3 is the briefest of all to allow ample time for families to recover from shock, call the emergency services etc after Mark Bratton has done an infant baptism.

May 28
Bishop Graham rang to say I was to get an NSM. Assumed at first this was some form of ecclesiastical honour, like a kind of clerical OBE, perhaps standing for Nice Sermon Minister. But it turns out that an NSM is a sort of unpaid curate, the result of a job creation scheme dreamed up under the Thatcher Government to keep unemployed theology graduates from hanging round the streets discussing pre-millenialism. And it turns out that Gill Dallow will be the NSM, so will combine work at St Johns with her ongoing management of LBC.

Oct 13
Staff meeting. Mark and Don announce they are to have a makeover on Yorkshire Television. Wonder if I should have a makeover but decide I look cool enough provided have a good tan. Book up another holiday in Turkey.

Nov 4
Mark and Don returned from their TV makeover. Don almost unrecognisable, smartly dressed, completely bald, now looking like unemployed advertising executive instead of rhythm guitarist out of Status Quo. Curiously Mark looks exactly the same as before.

Dec 16
Unfortunate incident in the children's Nativity Play in church this morning, but the girl from Climbers who was playing Mary wasn't kept in hospital overnight and the plaster should be off by February. On reflection it was a little unwise to ask Steve Taylor and Gill Dallow to team up as pantomime donkey.

Apr 4 1997
Long prayers again today. Mark had forgotten to give out three notices and so he cleverly worked them into the prayers instead. Not a bad creative effort, though I think that "O Lord, thank you for the opportunity people have to donate refreshment for the newcomers tea by signing up on the list on the notice board next to the Kitchen or telling Joan Hills whether they will bring cake or something to drink" should not really have been followed by "and with thy spirit".

May 6
Phone rang at 5.15 am. It was Enid checking up on the dates for Communion for the Prayer Ministry Rota for August 1999. After the staff meeting today found Gill's church keys in the bread bin.

Aug 29
Today we did the Myers-Briggs personality test. It was a great revelation how we all tend to prefer to spend time with people of the same personality type. I have already noticed how I am much more comfortable paying pastoral visits to those with a similar taste in Stella Artois lager.

Sep 4
Tom found Gill's church keys in a neighbour's hedge while out on his paper round.

Sep 5
Police telephoned the house asking if I knew a Gill Dallow and if so could I go down to the station to vouch for her, as she had just become the first person ever in the Metropolitan Area to be arrested for dangerous driving while trying to park at Waitrose.

Oct 16
Met with the Building Project team. They have some exciting ideas although there was a rather cool response to Mark's proposals for a permanent exhibition of the work of the Early Church Fathers in the Parrot & Palm, and I found surprisingly little support for my idea of developing SNIPS to include an adult hairdressing and sunbed salon.

Nov 4
PCC meeting. Repair of the clock high on the agenda, but as often opinions split along theological lines. Some just wanted it fixed, some wanted it to go twice as fast to show we were not conformed to the standards of the world, some wanted it left as it was as a symbol of the church's constancy amidst change, and others preferred it to run backwards.

Jan 17 1998
Staff meeting discussed how to make Communion services more friendly. I outlined my idea of having the staff dress up as Teletubbies giving big hugs during the peace. I would be Tinky-Winky, Mark is obviously Dipsy and Gill typecast as Po. Gary the Mole would play the part of Noo Noo the vacuum cleaner. Didn't think the music group would have any problem playing the Teletubbies tune as it sounds remarkably like most of the recent Spring Harvest songbook anyway, though a little more sophisticated. However, on reflection decided that Teletubbies are clearly a post-modern comfort blanket and could become just another evangelical prop. And besides, Wei Hei told me that La La means something very rude in Chinese.

Feb 27
Staff meeting. Detected a slight note of irritation when my colleagues chanted in unison "Stop calling it a houseparty it's called the church weekend". Foony lot. Gill only had 14 ideas today, she seems to be running out of steam.

Mar 5
Told my colleagues that I had a new job. Paused for a while outside the church in reflection, and while gazing up at the clock tower got that funny feeling that time was somehow standing still. Suddenly noticed it was twelve o'clock already and I was late for my next meeting.

Apr 4
Woke to find I had unfortunately triple-booked preaching engagements for today. At last moment asked Mark to go to St Ariadne's in Neasden for their family service, and sent Gill to take communion at St Mary's. Admit it was somewhat short notice but felt she was less than gracious when I told her it was St Mary's in Ramsgate.

Apr 8
Gills's keys posted back to church having been found in Ramsgate.

May 14
Phone rang at 4.20am. It was Enid, flushed with success after her showing of a Lake District video at Open Church, wanting to know if we could make this a regular weekly event. She had a list of interesting suggestions but I had to tell her that The Full Monty was not a documentary on a second world war Field Marshal.

May 16
My last day. Scaffolding going up around the church tower. The clock repair begins tomorrow. I'm glad that I was able to finally get it fixed just before I leave. I wonder though if I should have told the congregation that as our contribution to the Millenium we're installing a seven-foot high neon 24-hour digital clock which plays excerpts from Graham Kendrick choruses every quarter hour? That'll get them in their seats by 10 o'clock!
Strong stoof!
---
Read, in segments, during Ian's farewell evening at St Johns, May 17th, 1998.