wordsout by godfrey rust
< st john's ealing >
---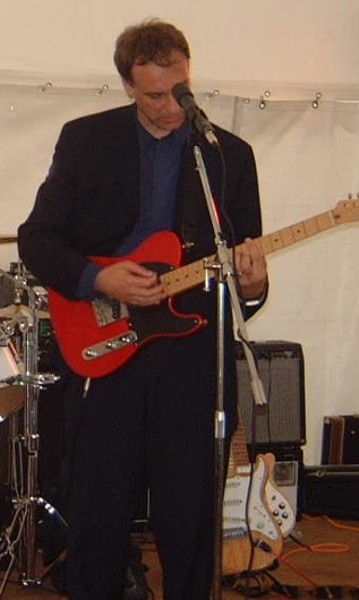 Lines written in praise of
Donald W McRobbie

on the occasion of his fortieth birthday, after the manner of
Sir William Topaz McGonagall, Poet and Tragedian
On the last day of July in the year of Nineteen
Hundred and Fifty Eight
as I am about to relate
in the famous granite city of Aberdeen
(to which I would imagine few of you have
ever been
and which is less than a hundred miles
from the shores of the Silvery Tay
where once a tragic incident concerning the railway bridge took place which I'll tell you about
another day)
a happy event there was in this highland region
of Grampian
which we all today say was champion.
for there was born that day the great
Donald W McRobbie,
a man for whom playing the guitar has always
been more than just a hobby,
and whose fortieth birthday we now celebrate
on the first day of August, Nineteen Hundred and Ninety Eight
which it will be noted is actually a day late.

When he was still at the university
Where it is reported he studied with great
dedication and maturity
He met his future wife who was named Fiona
and whose Fide he very soon decided was Bona
and so they were wed and I have to relate
it was to be a highly productive state,
for as the nights in Scotland are well known
for being dark and long
it was soon that Laura and Andrew did
come along.
But he to London to make his way
as fame and fortune beckons young Scots to
this very day
and came to an unsuspecting church, St John's
in Mattock Lane, Ealing
where the music had been sung discreetly,
though with feeling.
He brought to St John's Church his Fender Strat
and many people would simply have left it at that
but he also introduced the wah-wah pedal
and foldback
and other features which the church's public
address system did lack
and the musicians did react with some
consternation
when he turned up with a direct-input Ovation,
for until then their view of an upmarket
acoustic guitar
Was an Eko Ranger 12-string or at best an
FG140 Yamaha.
And those elders of the congregation did tut-tut and say this is devilish conformity to the spirit of
the age
whereas in fact he only wanted to play like
Jimmy Page
and he is surely one of the finest writers of
contemporary worship music of our day,
or so the Reverend Mark Bratton did say,
though in certain parts of the congregation
it is said without fear or hesitation
that his music would undoubtedly be much
more widely sung
if the lines of his lyrics were not so lung.
He is also a man whose professional interests
are medical,
for as a lecturer in technical matters he is
not heretical
and attending conferences consumes a great deal
of his time
so I hope his images scan better than this rhyme.
Yet even such a man may have a last
youthful fling
and sometime around the age of 35 he even
began to sing,
and in St John's no-one would say except a fool
that Donald McRobbie is not still the epitome
of cool,
and yet he extends his musical gifts with
great charity
for he will condescend to play alongside
an old folkie like me
who still likes the Eagles and plays everything
in G,
although it is true he will perhaps appear
nervous
unless I include at least two of his songs in
every order of service.
And so this great man let us name
who on his fortieth birthday deserves the
Highest Acclaim
and I give you the toast of Donald W McRobbie,
a man for whom playing the guitar was always
more than just a hobby.
---
Performed at Don's birthday party, August 1 1998.