wordsout by godfrey rust
< st john's ealing >
---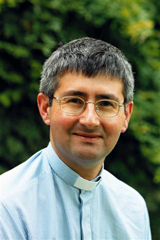 Ladies and Gentlemen of the Jury
for Mark Bratton, on his departure to take up the post of Chaplain to the University of Warwick
I stand before you today to plead on behalf of a young man. Well maybe not strictly speaking a young man but at least a man still with his own hair and teeth. Mostly.

I am here to plead mitigation for the accused, Mark Quinn Bratton. He has admitted the charges laid against him, and we should be grateful for his confession as it has spared us the necessity of releasing the full video tapes of evidence. Indeed I am pleased these hearings are not being televised. He has already once endured the humilation of trial by television in the so-called Yorkshire TV "makeover" and few of us have heart to repeat such a spectacle, particularly with children present.

Here before you is a man whose only crime is to have wanted to be the greatest theologian since Augustine, the finest preacher since Wesley and the first British Olympic middle distance gold medallist winner since Sebastian Coe, and not necessarily in that order.

Now to sum up our case. We plead mitigating circumstances firstly because of his upbringing. Not that he grew up in war-torn Beirut. Any Englishman can deal with such small hardships. No, I mean the fact that he has lived in France. Now it may be fine for the Welsh or the Scots to associate with the French. After all they have a common enemy. But for the English such a combination is disastrous. Imagine Margaret Thatcher smoking a Gaulois and you will see what I mean. What chance did this boy have?

Secondly I ask you to take into account his unfortunate previous profession. He is, of course, a lawyer. For those of you unaware of the damage this can do I refer to a recent report of correspondence between the RSPCA and the Law Society. The RSPCA wrote to the Law Society recommending the use of lawyers in medical experiments in place of rats. When the Law Society asked why, the RSPCA replied with three reasons. Firstly, they said, there are more lawyers than rats. Secondly, some people quite like rats. And thirdly, there are some things even a rat won't do.

And finally, I ask you to consider that my client is, after all, only human and like us all suffers the frailties of the flesh. After all have we not all done just as he has? Consider the charges on which he has been convicted.

First, he is accused of occasional loss of memory. But how many of us, let us be honest, have not done the same? Have we not forgotten the names of the babies we are about to baptise? And their parents? Have we not all often locked our keys in the church safe by accident? Or phoned up our own answering machine to leave messages to remind us to do things? Those among you who have lent Mark books or CDs for a few days … I implore you, look upon it as an investment. Or if not that, then at least an opportunity for sacrifice.

Secondly, he stands accused of appalling dress sense, but I ask you: is this a crime? Evidence has been presented that there are some who have grown fond of the brown velvet jacket. Of his creative use of colour. The interesting co-ordination of footwear with clothing. The subtle yet distinguished tinge of grey in his hair, in a hairstyle which, I put it to you, itself owes a great deal to the early monastic tradition.

Third, he stands accused of enjoying good wine. And mediocre wine. And even on occasion some demonstrably bad wine, bought for less than 10 francs a bottle from Dieppe supermarkets and consumed on alternate Thursday evenings at dubious gatherings in a house in Gloucester Road. But is it his fault he entirely misunderstood the meaning of being called to the bar? Did not our Lord himself drink wine with publicans? Had there been a Foresters Arms in downtown Nazareth do you not think he would he not have been found there after evening worship at the synagogue?

And he stands accused of going on and on and on about almost being an Olympic athlete. Ladies and gentlemen, we must all have our fantasies and is it not kinder for those of us who have seen those fabled legs straining in their tortured way around Lammas Park simply to avert our eyes and pretend we have not seen this last desperate clutching of a drowning man at his vanishing youthfulness? Compassion, members of the jury, is the only appropriate response to this charge.

I would have called at this point his colleagues as character witnesses to support him. However after a lengthy interview with Gill Dallow we felt that discretion is the better part of valour in this case.

So I move to the more serious charges, which relate of course to his preaching. And he stands accused of treating the pulpit like a court of law. Of using the lawyer's trick of asking rhetorical questions. I ask you, is this fair?

It has been said that on occasion he has made what may be called suggestive or risque remarks from the pulpit. Surely not. This is a man of such purity that on his own admission he has returned from a honeymoon in which, and I quote his words exactly, "I did absolutely nothing with my new wife".

It has been said that on occasion he uses language that nobody understands. But speaking in tongues has long been a part of our worship here and I am certain that, if we are only patient enough, the Lord will send someone along to interpret Mark's words for us.

Finally, and in the eyes of some most grievously, he stands accused of being married. Of this charge my client has pleaded guilty. He has already been given a life sentence. Ladies of the jury, I beg of you, let him go now.

And now for his sentence, let us make his punishment fit his crimes. I ask you to send him into that wilderness that lies beyond Greenford. To the young and untutored wherever they may be found. I ask you to send him to a place of learning. Where then? Oxford? Cambridge? Durham? Doncaster College of Rudimentary Theology?

No, I suggest the University of Warwick. A place of such cultural deprivation it hides behind an effete historical name because it cannot bring itself to admit that it was only founded in 1963 and is actually in Coventry.

A so-called university that has sent forth into the world such talents as Simon Mayo, Jack Straw, Timmy Mallett and—yes, we must face it—Godfrey Rust. Is there redemption be found in such a place? A place so philistine that it thinks an Early Church Father is a priest who gets up to say 7 o'clock Mass? Can he be a Chaplain here without being a Charlie? Will this not be punishment enough for this tormented, cultured soul? So I say to you, send him to Coventry! And do so now!
---
Performed in September 1998 in (I think) the lounge at St John's, West Ealing: Mark Bratton had been a curate there.