wordsout by godfrey rust
< family >
---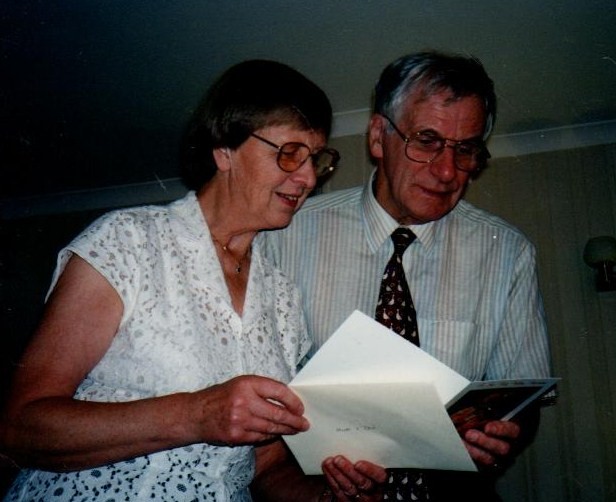 The ballad of John and Anne Duck
for John and Anne Duckworth on their 40th Anniversary, November 1995
It is one of the great love stories
that is written down in my log,
like Elizabeth Bennett and Darcy
or Miss Piggy and Kermit the Frog

It began with him painting a ceiling
for his cousin Colin in town,
and he'd heard that his wife had a sister
and this day the said sister came round.
Now that flat, it got well decorated,
with no murmur of fuss or complaint:
never before had John Duckworth
been so keen on wallpaper and paint.
She was trained in manipulation
and knew just where to press and to squeeze—
the things she could do with a body
would make a man weak at the knees,
and to see him at work on his organ
would turn a head stronger than Anne's,
and when he tugged out his basso profundo
it was time to start reading the banns.
They was married in Hampstead Garden
on November the 5th '55—
It's an interesting date for a wedding,
but they just about got out alive.
The fireworks were just the beginning
of a marriage that's gone with a fizz
(though the honeymoon later, by all reports,
turned out a bit of a Swizz).
They came back and settled Wight-side
where they practised to be ma and pa
and their quiver was soon filled with offspring
and the first was a Jewel - ya?
With the second he said "well that's Andy,
and I think its a boy, theres no doubt",
but after the third one she said, "that'll do,
I think they're Petering out".
And they moved to a mansion in Melton
at the end of a nice field they found,
where he taught and he played and he choired
and arranged
while she threw bodies around.
# Here he grew a discerning palate
which he kept trained from day to day—
how each guest will recall the unique bouquet
of Chateau Meadow Way
And she meted out justice to sinners
each week at the Magistrates' Court
while he tried to even things out a bit
(well, at least he never got caught).
Now the Duckworths of Burnley were fertile
and those other down South do their best
and they soon became Grananne and Oompah*
To Jon, Tom, Hannah, Amy and Jess**,
and so now they are shy and retiring
with a modest ambition in mind
to visit each part of the Commonwealth
and do everything there they can find.
They have reached their Anneversary
and their Johneversary too
and their story's a lesson to all the world
to what love and togetherness do.
They've seen out eight Prime Ministers
(and a ninth soon, with any luck),
so from all of us here, to you two there,
Happy 40th, John and Anne Duck!
---
Read at John and Anne's anniversary party in Melton Mowbray, 4th November 1995.
*An inspired solution to the difficulty of naming two sets of grandparents. "Oompah" for a musician, of course.
**And later to Zoe, Joseph, Rachel and (another) Joseph.
A later eulogy for John is published as Questions.