wordsout by godfrey rust
< family >
---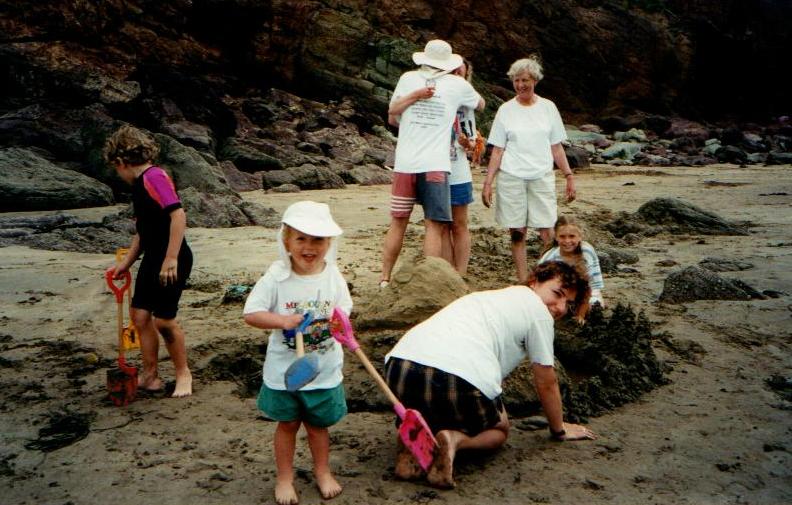 Hope Cove Diary 1995


An occasionally poetic commemoration of an extended family holiday in Devon, written by Daddy (extended family that is, not the holiday, which was too short).

Sunday July 9
Yesterday we arrived at Hope Cove in brilliant sunshine. The temperature has been in the low 30's (very hot) though it's a bit windy. I have been for my daily run, but have noticed that the hills have got higher again, just as they did last year. It's something to do with global warming, I expect. Today it was the end of Wimbledon (well, not the end of Wimbledon, as such, I mean the place is still there, or at least I hope it is or there'll be another impossible day at Clapham Junction on Monday, I mean the end of the tennis), but we entertained ourselves on the beach digging irrigation systems. There were some Germans (they got there first, of course) who insisted on sullenly breaking down every dam we built but with reinforcements in the shape of Nicholas and his brother from Rossendale we soon saw them off. This evening Tessa, Marie-Noelle, Emma and Joel have gone up the hill to look at the view, while Adam is asleep and a little sunburned. The journey from London was uneventful, except for a single notable incident which Emma the poet immediately captured in verse:

Bull on the motorway?
by Emma Rust

Sitting in the car
can be very dull,
and to brighten things up
along came a bull.

We saw it standing
by the motorway
with two policemen
trying to get it away.

They were poking at it
with a long brown broom
stepping away
to escape their doom.

What would have happened
if he got onto the road?
All the cars would have to stop
or he'd be a dead toad.

If the bull hadn't been there
to brighten our day
we'd be sitting in the car
with nothing to say!

Joel's version is more compact and more metrical:





A bull nearly went on the road one day—
it stopped right at the motorway!

Daddy, of course, provided insights into the deeper significance:

Ah, bull! I saw thee in one moment's fleeting grace
proud and defiant (and quite clearly out of place),
and yet, reflecting on the incident just now,
I reckon on the whole you were probably a cow.

And from Tessa, the practical approach:

Join the police, keep a bull at bay!
What better way to earn your pay!

And the last word from Adam:
Look, Adam, its a bull...
NO!!!

Monday July 10
Overnight there was a tremendous thunderstorm. Everyone woke up except for Emma. No-one was frightened by the thunder, but every few minutes all the lights went off for a few seconds, and Adam didn't like this, so he spent the rest of the night with Mummy while Dad slept in Adam's bed. Today Daddy spent as much time as he could asleep. Or tried to.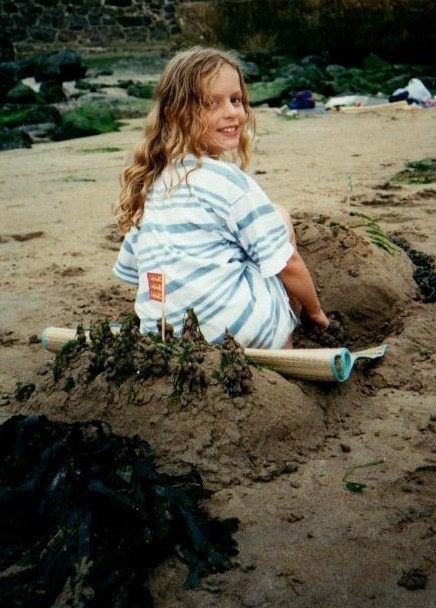 In the morning Mummy, Emma, Joel and Adam ("the nuisance" - Emma) went to get a newspaper. Joel bought a little boat. Adam didn't want to get his feet sandy, which is something of a challenge when you are walking across a beach. Then when Mum washed them he didn't want to get them wet. Later we went to Mouthwell beach where we dammed the stream with the boys from Rossendale. Then Daddy went and bought a BIG boat, as Emma had been asking him to every five minutes and this seemed the best way to try and get some more sleep. The boat was a black and yellow inflatable dinghy big enough for two to sit in, with two oars. This evening after supper, Emma and Joel rowed from the jetty to the beach, while Daddy followed them along the shore and stubbed his toe regularly on the underwater rocks.

Today's poem, requested by Tessa, is about Adam's favourite cuddly toy.

Adam likes to play with cars
and eating lots of chocit bars
and building castles in the sun
and shouting NO!!! at everyone
but most of all he likes to be
with one out of his special three:
one's just "Bunny", one's called "New"
but "Different Bunny" heads the queue!





Different Bunny used to be
white and fluffy (just like me!),
now he sags and flops about
as if his stuffing had come out.
His fur is rough, his coat is faded,
his grubby ears are limp and jaded
but it would take a special rabbit
to break Ad's Different Bunny habit

Tuesday July 11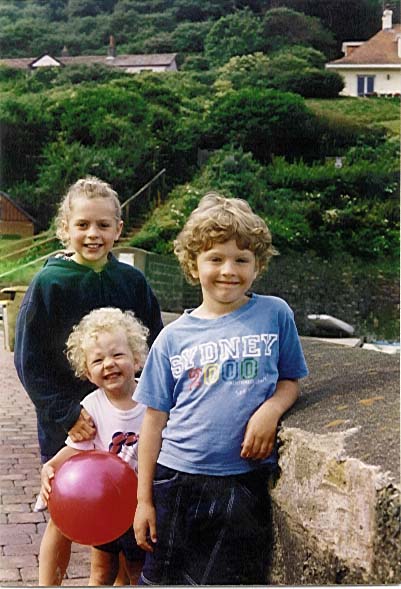 Today it was muggy and miserable a lot of the time so the beach was a non-starter, at least until late afternoon. We ate our Golden Grahams and about eleven o'clock set off to Ivybridge to the South Devon Leisure Emporium. Well it was actually called the Centre but a true Emporium it was. Two swimming pools, one in, one out, the latter large and entirely empty due to a brief onset of the Ice Age. This though did not deter Emma, who in her charming, gently insistent way ensured that two lifeguards were despatched out of doors to supervise all members of the tribe making free with the facilities. In fact it was pleasant enough outside (in the water at least) with the result that getting back into the indoor pool had the effect of entering a sauna. Tessa once more assaulted the Tourist Information Centre, returning triumphant with another clutch of leaflets and the knowledge that the legendary Sea Tractor had been sighted between 10 and 1 making its way between Bigbury and Burgh Island, during low tide. As Tessa's main aim this holiday is to capture and tame this fabulous creature, this intelligence is to be treasured. However, as it was already nearly three o'clock, it will no doubt have returned to its lair, so we returned to Hope Cove and spent an hour or so on the beach where Adam insisted that Daddy made supper. Today's poem concerns the high point of our trip to Ivybridge in a style as appropriate to the region:

The Portable Loo
(after the manner of Thomas Hardy)

We drove from Kingsbridge on the road -
The A329,
And car after car drove sullenly by
In an endless line,
And the the road ahead was wan and gray
While I in my heart tried to be gay
As we drove along that dismal day
The A329.

The road was shrunken, like my heart
Though it was an "A"
With barely room for two to pass
That holiday,
And looking up the track ahead
The trailer lights burned brightly red
And began reversing back instead
Right in our way.

Oh, had I known what that vehicle was
In the bitter queue
I might not now look back upon
Such waste with rue,
For we were too preoccupied
To reach the swimming pool (inside)
And so impatiently decried
The Portable Loo.

Ten golden minutes there we sat
And yet knew not
This was the zenith, all afterwards
Would go to pot.
Now when our loo is blocked, I think next
Of the time that our life had a simpler text
When the Loo blocked the road, and we were vexed
On the A329.

This is Joel's more literal interpretation:

Portable Loo on the road?!
by Joel Rust

One day when we were
going to the swimming pool
to brighten things up
along comes a loo -
it was portable
(portable means that
you can carry it).
The road was blocked.
It took about 10mins
to get past.

Wednesday July 12
The Day of the Tractor. We set off to Bigbury at 11 following the information supplied by the Ivybridge Centre. But we were misled. The Sea Tractor ventures out only at higher tide, so we would have to wait until late afternoon. The Beast itself lay sleeping at the foot of Burgh Island (which of course wasn't an island at this point). Bigbury has enormous sands when the tide is out. Emma sat in a pool of water for several hours, commenting on how warm it was. Joel and I searched the rock pools and found several saltwater prawns, some snails and a crab. We walked to the island, up to the top where there was a 19th century tea shop. Unfortunately it hadn't been open since the 19th century so we walked back down and Marie bought everyone icecreams. Then the tide came in an THE SEA TRACTOR sprang into life. Driven by a dour, unshaven man in a tracksuit who seemed a poor substitute for JIMBO (Famous Driver of the Sea Tractor 1942-1990 R.I.P). We watched it rumble across three times, and then, as the tide flooded over the causeway, we boarded for our momentous trip. I thought of the literary and historical parallels to this moment. The dramatic climax to Virginia Woolf's To The Lighthouse. Scott's drive to the Pole. Mallory and Irvine setting out onto the North East Ridge of Everest. Captain Kirk and the Enterprise boldly going. None was adequate. I can only sum up its emotional impact in this clerihew:

Mont St Michel
was all very well
but clearly lacked a
Sea Tractor.

Thursday July 13
Today was the day of the Famous Devon Artist. Each Thursday he takes up residence in the Reading Room at Hope Cove. For weeks Joel had been planning to take him a picture of Thurlestone. This was finished (with a second copy for Mum & Dad) this morning, and we made our pilgrimage (30 yards up the road) to the FDA's studio. Joe gave him his picture. He showed Joe how to paint shadow onto rocks, and gave him a laser copy of a photo of Hope Cove Beach. Later that day Emma, Joel and I returned. Joel tok his picture of Hope Beach House, and the GDA showed him how to paint windows. Emma showed him her four views of Hope Cove, and her sea painting. In return the GDA showed Emma how to draw boats, and then drew and signed a sketch of two sailing boats. Today we have a song composed by Emma and Joel:


The Artist Song
Words and music by E and J Rust

We're going to see the Artist
We're going to see the Artist
with paintings in each hand!

Friday July 14
Today we went to Pennywell Farm, where the following activities were undertaken by Emma and Joel, with Adam's occasional intervention:



Feeding milk to lambs
Sitting on a tractor (Adam)
Egg hunting
(Joel took one home to eat for breakfast next morning)
Sitting on a tractor again (Adam)
Milking a cow (Joel 2 spurts, Emma 1)
Ferret racing (learning that ferrets are very smelly)
Want to sit on tractor again (Adam)
Spinning wool (Emma and Joel)
Holding pet ducks and rabbits
Riding ponies and donkey
(Emma twice, Joel 3 times, Adam twice)
Final ritual sitting on tractor
Going home

Saturday July 15
At noon Mary, Colin, Michael, Judy, John and Anne arrived to take up residence in Eddystone next door. Hope Beach House has six flats, all named after local rocks, and we're in Thurlestone, which is the bottom left. Eddystone is bottom right, so we now get to hog the front patio and the flowers in the low wall between the two front doors are taking a terrible pounding. Colin and Mary are the Grandparents, the other four are Great-Aunts-and-Uncles, except that John is Colin's cousin as well as being his brother-in-law, which makes everyone related to everyone twice, including being his own second cousin, I think. We had a Grand Lunch prepared apparently by someone called Al Fresco who I suppose is a local chef. Adam had a good afternoon shouting "NO" at everyone, and then we went to order fish and chips from the Lobster Pot. Eleven portions of cod and chips were obviously the culinary highlight of Hope Cove's weekend and stretched its catering resources to the limit. At 8.30, as we played progressive table tennis, Julia's little red car drove up. And Julia was inside it.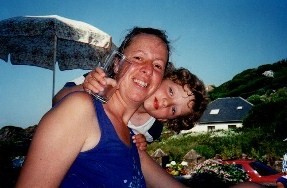 Sunday July 16
In the morning an expotition walked to Sawmill Cove. Everyone except Daddy (childminding Adam) and Colin and John (reading the Sunday papers and talking about Important Things). Daddy drove to Bolberry Down with refreshments 45 mins later (stamina takes time to build up on these outdoor pursuit weekends). Everyone wanted to continue to Sawmill Cove, except Mary who insisted she had been sold a dummy and that there had been many Frightening Drops on the way, so Daddy took her back with Adam.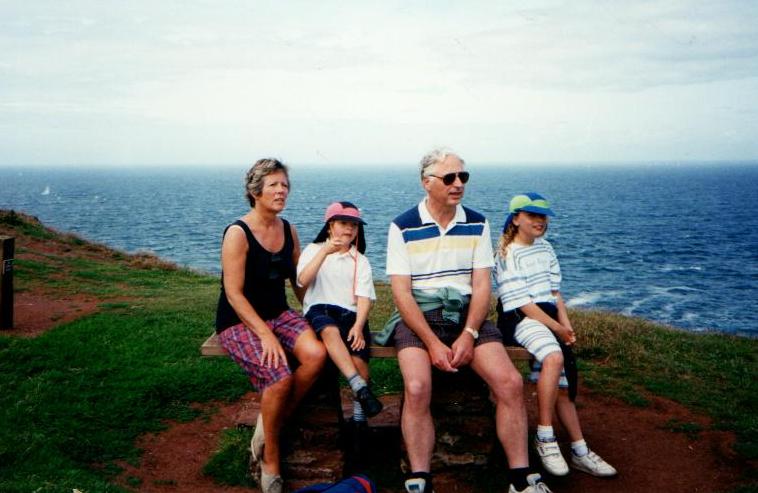 An hour later, all the stay-at-homes drove back to Bolberry to meet the Long Marchers for a drink. After lunch we took to the beach for an Epic Game of Rounders, which lasted several hundred innings. John's catching ability showed that his choice of music over sport as a career was probably sound. Adam ran round very fast at every opportunity. Daddy made a series of breathtakingly athletic catches at back-stop [how did this stuff get in here? - Ed]. The preponderance of lefties among the teams caused Emma and Marie-NoŽlle to run several miles in between balls as the cry "Left-hander" rang out across the sandflats. Tessa and Colin propelled the ball great distances. Emma's team finally won 18-16. Later the grown-ups (well anyway, the bigger people) went to Salcombe for a meal. Anne got cramp so Colin massaged her leg during the first course. The leader of the jazz band insulted Volvo drivers. All in all a highly successful evening.
Monday July 17
Michael and Judy couldn't take the pace and slipped through the police cordons back to Salisbury. In the afternoon we had Rounders again, with teams chosen by Emma as follows:
Emma's team Joel's team
Emma Joel
Colin Daddy Anne Mummy Julia Mary
Marie-NoŽlle John
Joel's team began unstoppably, and then unaccountably stopped, after Tessa had hit three consecutive rounders and led them into a 5-0 lead. Julia demonstrated great ingenuity by successfully bowling, batting and fielding while being apparently surgically attached to a two-year-old (that is, Adam). However, her rounders did not, unfortunately count double and Joel's team hung on for a 6-4 win before the tea interval was called. (I'm not quite sure what it was called, though "Gerald" seems a nice enough name). Colin has been helping Marie-NoŽlle with her translations. With such a tutor, of course, you would not expect mundane material. Anyone walking in could hear excerpts from Alice in Wonderland and challenging nineteenth century novels.
Tuesday July 18
Dull weather. Weaving Day. Everyone aching from Rounders. An expedition was mounted back to base camp [Somerfields in Kingsbridge] for supplies. Julia was chief entertainment officer. She helped Emma set up to weave a wonderful "E", and then took Emma and Joel out to run up and down the beach to wear off this excess energy that the rest of us dimly remember.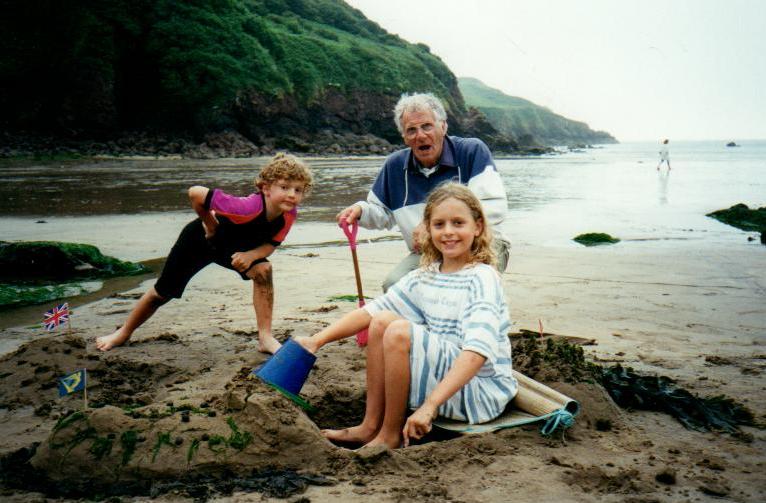 In the evening Joel did some equally successful weaving. Colin and John entertained each other by testing each other with snatches of classical pieces whistled or hummed more or less in tune. Godfrey's early enthusiasm for the game waned quickly when he learned that mid-60s Beach Boys' songs are not technically considered to be Early Music, so retired to bed complaining of being unwell (or perhaps just complaining). Marie-Noelle is now translating excerpts from Becket and some of the lighter parts of Bertrand Russell's History Of Western Philosophy.
Wednesday July 19
Today I was ill and so I stayed at Hope Cove while everyone else went for a day out, so I can't report on what happened. However, as I lay on my bed in a feverish state, drifting in and out of fitful, drug-sodden sleep, I had a most extraordinary dream, the meaning of which I can only wonder at. My dream was like this. "Two cars were travelling along narrow, country lanes, one after the other. On each side were immense hedgerows, and the road was so narrow that no-one driving a Volvo could possibly overtake. Ahead of the two cars was a huge lorry. On top of one of the cars was a strange, grey boat-like receptacle. In the back of this car sat a small person on a kind of raised throne, attended on each side by flunkeys. At regular intervals the ruler (for thus I assumed he was) pointed forward and cried "Rubbytruck, Manuel!". This I took to be a religous incantation as it was routinely greeted by an assenting "Yesaddy" from all, rather as one would say "Amen" to the preacher in an English church.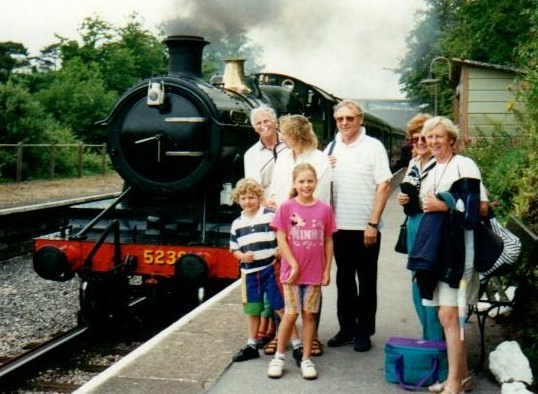 The scene then changed to an old railway, but with strangely the same people hurrying onto a carriage. At the back were what seemed a group of Grumblers, regularly muttering "Do we have to rush? Do we have to rush?" The train vanished into a tunnel, and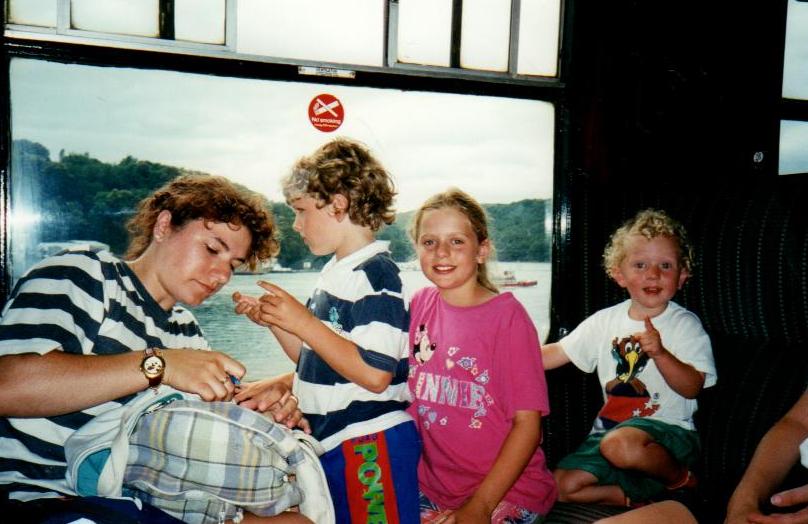 emerged in a place remarkably like Blackpool, at which time I was attended by a vision, I know not why, of one of the party (a man with grey-white hair who regularly affected an air of mild bewilderment) seated, mouth open, in a deck-chair with a knotted handkerchief on his head. All around him ran small children with table-tennis bats, while an indeterminate number of women miraculously each holding several different simultaneous conversations with themselves and each other stood to left and right. I was overwhelmed by this vision and fell down as if dead". I then awoke, and am left pondering its significance, and continue to pray for enlightenment. This evening, Marie-Noelle translated fourteen chapters of Dickens, Eliot's "Notes Towards A Definition Of Culture" and, for dessert, a selection of James Thurber.
Thursday July 20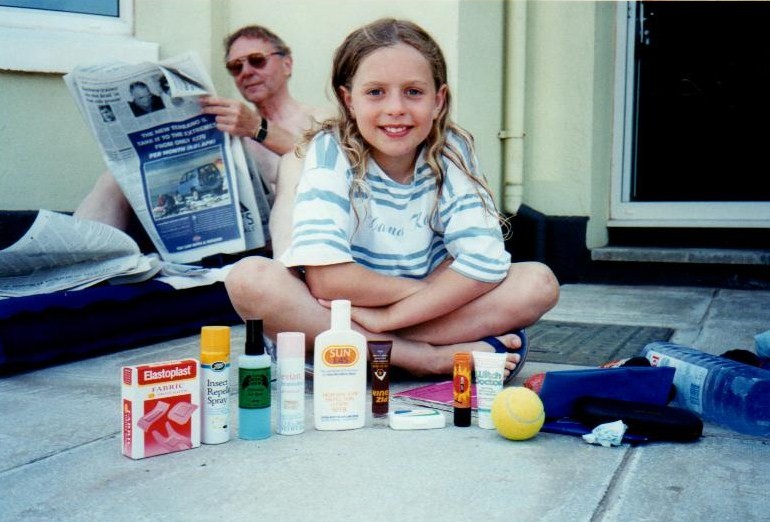 Colin's 69th birthday. He was well booked: Sebastian Faulkes' Birdsong ("Magnificent and deeply moving", Sunday Times) from John, Anita Brookner's Incident in the Rue Lougier from Marie-NoŽlle, Rachel Cusk's Saving Agnes from Mary, along with a kite (unclear if there is any connection at this point), shirt and socks from Tessa and Godfrey, and the following poem from Godfrey:
Meanwhile, South Devon is gripped by a heatwave. Sales of Orange Calippos at the Hope Cove Post Office are up by as much as 7%.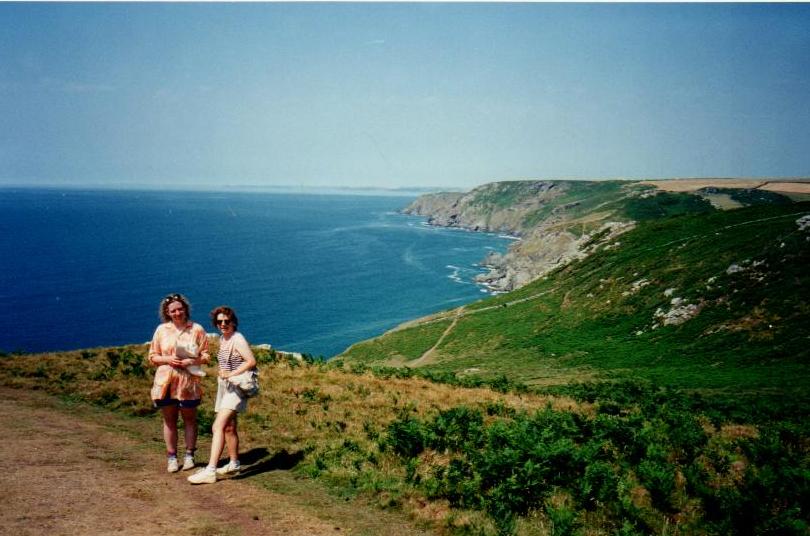 Tessa, Julia and Marie-NoŽlle walked from Salcombe around the coast path back to Hope Cove, liberally punctuated with refreshment breaks. Emma, Joel and Adam spent the morning burning on the beach with Dad and Mary on hand with the sun block. Daddy went for a run up to Malborough and kept going up all the hills (well nearly). Colin read things, and in the evening was taken for dinner at the Lobster Pot. The evening began inauspiciously. The pub had not reserved a table. John could smell drains. But we took over the tables outside, with a little structural rearrangement, and the drains turned out to be seaweed. Sitting outdoors in the balmy (that's with an 'L') evening, things began to look up. As in some Mediterranean cities the local youth parades itself up and down the main thoroughfares in the evenings to be seen, in Hope Cove they seem to parade their dogs. A whole contingent of Crufts' also-rans came by, again and again. We ordered, several lobsters (Colin wisely having steak and kidney pie in deference to his white shirt). All that the al fresco scene lacked was a harbour view, but this feature could be gained, however, by jumping up from the table and travelling some twenty yards round the corner of the Post Office to look at the impending sunset over Mouthwell Beach. The meal began to acquire a bizarre rhythm as diner after diner, inspired by Anne's cheery "Only five minutes now!" promise of a glorious sunset, trotted to the viewing gallery. Twenty minutes later and the sun, like a small child determined to prove that it is not sleepy, defiantly still smiled down on us. Tessa, who had last week ridden the Sea Tractor and was in search of another Quest, now had the ambition to video a dramatic Hope Cove sunset, and bidden by the promise of yet better views moved resolutely up the hill towards Thurlestone. Gradually the steak and kidney pie disappeared, gradually Tessa became a ever smaller speck on the distant skyline. As John broached the second bottle of wine, Tessa had long since left Bantham Bay behind and was nearing the outskirts of Plymouth. Back at the Lobster Pot, the surgical implements were out onto the pincers, and Julia's jacket was paying a terrible price. Colin moved to a safe haven from which vantage point he and John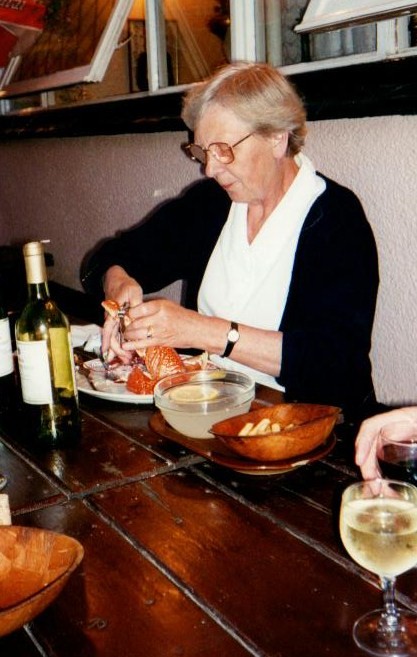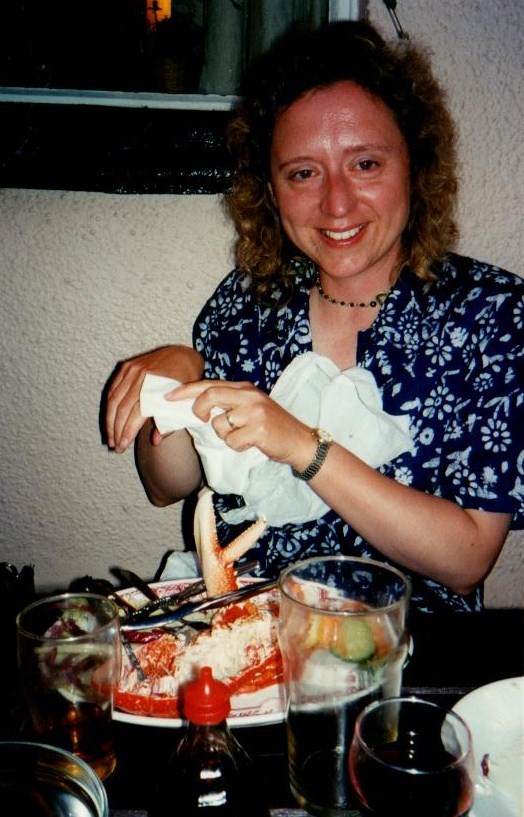 gave logistic support to the Semillon, while Mary and Anne completed the crustacean rout. Tessa returned just in time to eat her lobster pavlova, and find a candle for Colin to blow out. The evening was a great success. Back at home, Marie-NoŽlle had translated War & Peace and would have completed the third volume of Voltaire's Letters had Adam not wanted her to read Big Trucks again.
Friday July 21
The day started, as all last days of a holiday should, with progressive Tabletennis. Both Emma and Joel have improved dramatically here, though Joel's "in-off-the-roof-beam" shot has been referred for legal judgement to the Chinese authorities. Tessa, Julia, Anne and Emma then went to Dartmouth, as this was rumoured to be a Nice Place. This rumour was subsequently confirmed. John and Adam then pretended to be Wise Old Men looking at the sea for an hour or so. Daddy and Joel went to Thurlestone Sands where Joel drew his definitive Wild Day In Thurlestone in crayon (actually it was a nice peaceful day, but we got carried away with the blue-green so we used our imagination). In the afternoon Tessa and Godfrey walked to Bolt Tail, and looked across and saw a paraglider hovering over the coast paths, while down in Hope Cove the rest of the family looked up and saw the same sight. When G & T came down they saw Emma and Julia swimming together out in the cove, John and Joel splashing through the breakers in SeaSprint II, Marie-NoŽlle and Adam laughing their way in and out of the waves at the edge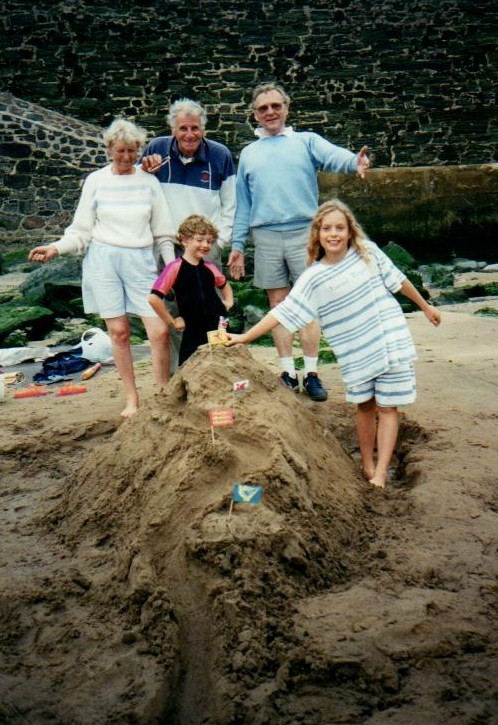 of the beach (Adam having lost all his clothes again), Colin flying his kite (well, what else?) and Mary and Anne, well, being Mary and Anne and making sure that nothing got wet that couldn't be dried and that someone would be in a fit state to make tea; and later, John did just that, recapturing the glories of the empire by appearing on the beach with a tray, teapot, mugs and glasses of orange juice for the kids. Then there was supper, with a remarkable plate of lettuce, and a really good sunset. The end of a splendid holiday is always a little sad, but it was clear that the time was right to leave. Marie-NoŽlle, having exhausted all available literary resources, was reduced to producing Chaucerian adaptations of the South Devon Tourist Attractions leaflets, and Somerfields had been stripped clean of Golden Grahams. So, goodbye Hope Cove. For now.

---