wordsout by godfrey rust
< st john's ealing >
---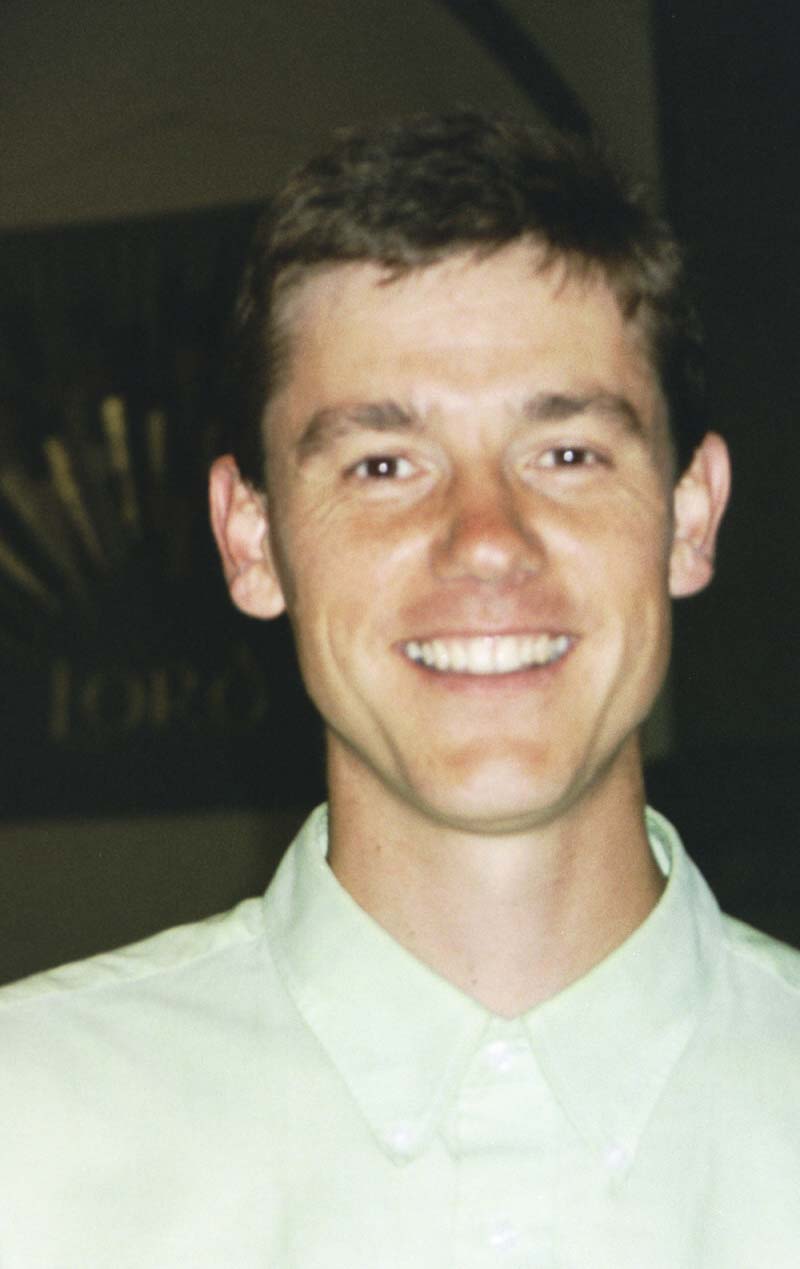 The wonderful thing about
Bavvers

for John Bavington, May 2002, on his departure from St Johns to become a vicar in Bradford, to the tunes of "The Wonderful Thing About Tiggers" followed by "My Old Man's a Dustman"
Oh the wonderful thing about Bavvers,
is Bavvers are wonderful things,
their tops are made out of rubber
their bottoms are made out of springs.
They're bouncy trouncy bouncy trouncy
fun fun fun fun fun,
but the most wonderful thing about Bavvers is
he's…the only one!
(Yes he's…the only one!)
Oh the wonderful thing about Jeannie
is Jeannie's a wonderful wife—
she wakes him up in the mornings (just)
and generally runs his life.
She's clever, cheery, thoughtful, thorough
and she cooks his meals
and washes his dirty football kit
—imagine how that feels!
(Imagine how that feels!)
Oh he cuts a dash at the football,
athletically leading the field—
energy isn't a problem,
those Methodists soon will yield.
He's running, passing, running, passing,
playing heart and soul—
if he only could fathom out the right
direc…tion for the goal
(the right direc…tion for the goal!)
Oh the wonderful thing about curates
is curates can choose everything
like the hymns and the prayers and the readings,
and the songs that the people must sing.
First you find a jolly tune
that everybody knows
and you make up some words and some actions and this—is how it goes!
(Yes this…is how it goes):
Oh his old man's a missionary,
he lives in Pakistan,
he sent him back to England
to become an Englishman.
Got a place at bible college
and a doubled-barrelled name
(somehow "Allen Bavington" just
wouldn't sound the same.

When they sent him down to Ealing
to learn his stock in trade
he stood up before the meeting
and the congregation prayed.
Then he led them into worship
and church with praises rang
and he said "Let's do some Action songs"
so this is what they sang—Oh—
Chorus
(To a "tune" of great simplicity, with actions)
God is Fab! God is Groovy!
God wants me to wave my hands and dance
until it hurts (Oi Oi Oi)
God is Fab! He's A-maz-ing!
Jesus is my Best Pal—and he loves orange shirts!
(la la la la la la la)

Well he cuts a dash on Sundays,
his choice of colours fine—
his fashion makes a statement that says
"OK, I resign".
With his Colgate smile and handshake
and his fine young head of hair
and his legendary waistline—
but no, we won't go there—
He's never late for meetings,
they just always start too soon
and John's idea of morning
might be yours of afternoon.
If you're the evening service speaker,
twenty minutes is your slot
but John makes time so flexible,
he fits in such a lot—
Chorus
Now Training is important,
every clergyman must learn
and John's been very diligent
since it has been his turn.
He's studied to be patient
and I'm sure you all can tell
with careful overseeing Will is
coming on quite well—
After Sunday evening service
he loves to go to Links—
teenagers need to be with those
who know the way they thinks.
Oh how will they replace him,
could St John's ever engage
someone else so cool and trendy
and more or less their age?
Chorus

If you want some sporting action,
and you think you have the nerve,
if there's anyone for tennis
John is always keen to serve.
But his reign as singles champion
must be over now we fear—
tell Goran Ivanisevic
its safe to come next year.
He's the star of paper hockey
and Funzone Scalextric track,
he can win at table tennis
with one hand behind his back.
Who wants to be a Smartypants,
"Come on you guys" he grins—
It's not that he's competitive,
he just makes sure he wins—
Chorus
Down at Funzone he's well wicked
and everyone can see—
Oh golly its fantastic it's an
awesome place to be.
Oh life's a bouncy castle,
though sometimes they go too far—
there's a rumour that they actually
let him play guitar.
He's nearly made the grade now, he can be
all things to all men,
and he lets the others staff do something
every now and then.
He can preach through Lamentations,
put heretics on the skids,
but they can't make him a vicar yet cos
he hasn't got four kids—BUT
Chorus
John and Jeanie and all Bavingtons
and Allens have to leave—
we'll put armbands on our coloured shirts
to show how much we grieve—
and the M1 up to Bradford
is a long long way to go
so when youre heading down to Canterbury,
drop in and say hello—for
Final chorus
John is Fab! John is Groovy!
(but we won't have to wave our hands
and dance until it hurts—Oi Oi Oi!)
John is Fab! He's A-MAZ-ing!—
Jesus is his best pal…and he loves orange shirts!
---
Written with major contributions from Katherine Firth. Performed at the morning service at St Johns, West Ealing on May 11, 2002. John had been curate at St Johns.