wordsout by godfrey rust
< ealing eagles >
---



Nanda's calypso

for Nanda Griffioen, on her departure from London to work in Dublin, July 2013. Performed in the persona of Rustaman.

Well you've heard the tale of how I came to be
with the club they call the Ealing Eagle,
and how I learn to run and have a lot of fun
and nearly everything was almost legal,
but I've not told you yet about the group I met—
some were fast and some were pretty—
legends of the scene of Ealing Green—
the first members of the club committee!

There was Alan in the chair with a sprinkling
of hair
who sometimes ran a couple of mile
and there was Kelvin cool who was no-one's fool
except for Claire and Esme's smile,
and Judith E the social secretary,
she held the keys for the drinks and the pantry—
and some Irishman with a republican plan,
and I think his name was Kieran.


But there was someone dafter,
full of life and laughter
and I would follow after
wherever she led.
Her name was Nanda,
and her plans were grander
(though I couldn't understand a
single word she said...)

Well Nanda is a runner
and she's crazy as the night,
as a coach she is a stunner
and she's sure to set you right.
She's the most enthusiastic supporter
she's the great encourager
and she'll go and run any marathon
just as long as it's as mad as her.





Well Loch Ness was a monster
and in China she hit the Wall,
and at Margelland in South Holland
she found the only hills they have at all
and when she first took to the streets of London
it was longer than she reckoned
because she finished that in four hours flat—
and another 42 second.





But now her days of luck and ballots
has become a part of hist'ry—
she can qualify automatically
and it really ain't no myst'ry:
if you train like Mohammed Farah
and you eat like a culinary sage
and you run for your live all round the M25
then you're always Good For Age!





And now the coaching staff at Eagles
have such a range of athletic charms
so Martin White, he will put you right
about the proper way to pump the arms
and you should be chuson Mr Richard Tuson
if your legs they are going too slow,
and Kelvin's not sure what all the muscles are for but he'll get them all on video!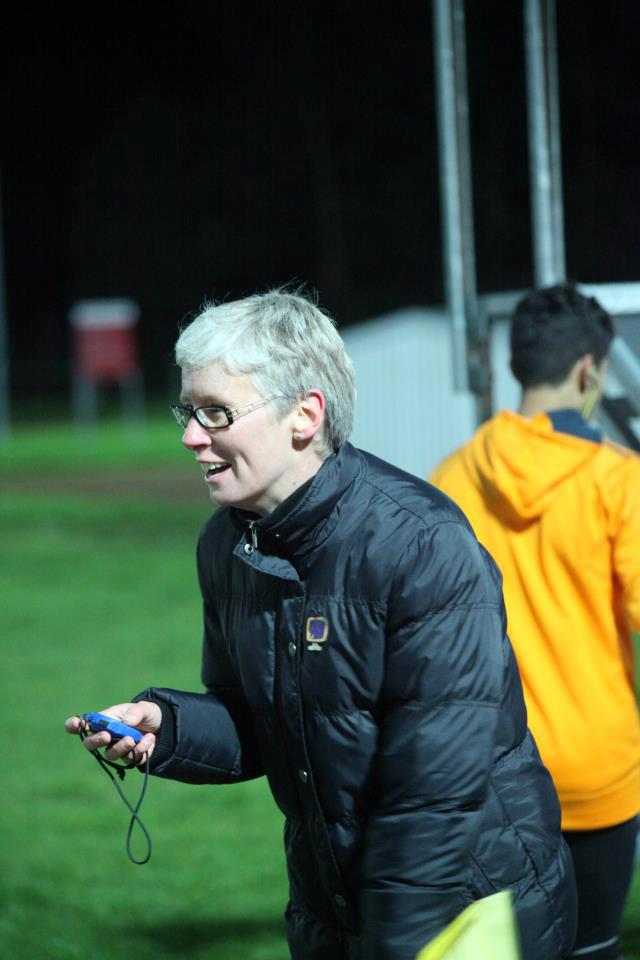 But when you go to Nanda
I hope you haven't planned a-
-n evening where you hope to stand a-
-t any kind of ease.
One Nanda session
will make a big impression—
you'll need to go to confession
cos you'll be on your knees!





Well now the British have a reputation
for a certain . . . delicacy
and if they have to tell facts about the bodily acts they do it euphemistically
and everybody on these islands know
when mother nature says to pay a call
that an English Rose goes to powder her nose
or just to freshen up, that's all.





But the continental female
is clearly not so shy—
she will tell to you what she's going to do
and exactly how and why
and so its not too much for a girl who's Dutch
to make sure everybody understands
(I wonder if that's why it's often
called the Nether-lands)





What Nanda said in Brighton
was her intent to enlighten
but was enough the frighten
any sensitive Brit
and it may be naive that
I do believe that
we should all be relieved that
she didn't need to . . . do anything more
substantial





But now Nanda's leaving London
to cross the Irish Sea,
it seems they've got a drinking problem—
they don't drink adequately—
and you'll find them warm and welcoming
but be careful when it comes to football
just remember that Dutch orange may not go down too well at all (at all).

And Nanda we'll miss you so very much
(once our injuries have fully healed),
we wont forget to stretch, and think of you
when we retch
after ten laps of the Lammas field.
We'll remember you with love and joy
though we have to say with shame
there's still no-one at all who can yet recall
how to spell your second name

. . .

And when we see you Nanda
is it any wonda
no-one will understand ya
when speaking Dublin-Dutch!




But you will never grieve us
and you can never leave us
for though this club is mischeivous
it means too much!

So you still Fly with the Eagles
in the rain and the sun
get that Ealing Feeling—
gonna run and run and run
get that Ealing Feeling
gonna run and run and run!
---
Performed (as "Rustaman") at the New Inn on July 28, 2013. Nanda's running exploits were legendary and delightfully random, culminating shortly before she left London with her running around the circumference of London inside the M25 (though not all in one go) accompanied for different stretches by various Eagles.
She moved to Dublin with her job with drinks company Diageo (hence the references to a drink problem). Delicacy obliges me to remain silent about exactly how Nanda described the unfortunate personal accident that attended her run in the Brighton Half Marathon, but it will not be forgotten by those present.
This was sung for a select audience at the pub, so I had no compunction about later re-using some of the lines in Fly with the Eagles (2013 version).