wordsout by godfrey rust
< st john's ealing >
---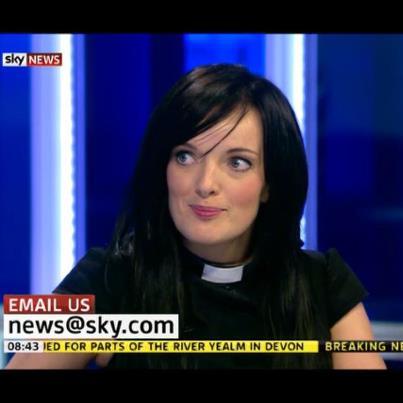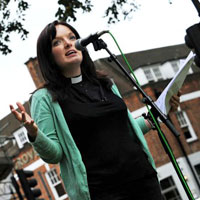 Thoroughly Modern Sally
for Sally Hitchiner, on her departure from St John's in June 2012

A day in the life
to the tune of "A day in the life"

I saw the news today oh boy
I had to check to make quite sure it's on—
I thought it must be repeat
for every programme had this curate on…
She wasn't male, she wasn't bald,
she didn't talk like David Cameron.
She wasn't sixty three years old—
everyone was really sure she wasn't from
the House of Lords.
I couldn't turn her off….
I switched from Sky to BBC—
somehow she'd made it to that studio.
My radio found LBC
then I was hearing her in stereo—
I couldn't turn her off….
Thoroughly Modern Sally
to the tune of "Everything today is thoroughly modern"
There are those I suppose
think we're mad, Heaven knows
the world is gone to wrack and to ruin.
What we think is chic, unique, and quite adorable
they think is odd and "Sodom and Gomorrable"
but the fact is
Everything today is thoroughly modern
(no point getting jittery),
everything today makes yesterday slow
(make it quick and Twittery)—
without technology theology's dead
now truth is measured by website hits and
Likes instead!
Every thread on Facebook's getting responses
(check your Tweets and Shares today!).
every Twitter feed is setting the tone
(go running with those hares today!)—
They'll write your sermons if you ask them
all how,
so mark those blogs cos here comes thoroughly
modern Sally now!
Equal rights today are testing the Synod
(Rowan's hair's already grey),
Sally takes no prisoners, that's very plain
(the heretics won't get their way).
They might endure it if the curate's a gal,
but not a bishop unless you're evangelical!
Everything today is thoroughly modern
(worship's getting jazzier)
everything today is starting to go
(clergy clothes are gettin' snazzier)—
20s and 30s are quite flirty and how,
so tag those photographs of thoroughly
modern Sally now!
Everyone today is wholly connected
(finding your pastoral needs)
everyone today is virtually free
(good for getting chicken feed*)—
so when you're leaving there's less grieving
somehow
for we're still Facebook Friends with thoroughly
modern Sally now!
*In Sally's farewell sermon she used a live chicken as an illustration.
When you came to Cafe C
to the tune of "Lord, I lift your name on high"
When you came to Café C
it was not quite what you expected.
It was not like HTB,
theologically corrected—
You came from Wycliffe to here to find your way
then you came to Café Church one fateful day,
saw the needs and saw the pain,
saw those who won't be whole again
and threw your sermon plan away.
When you came to Café C—
a church of questioners and needers,
full of prejudice and greed
(and I'm just talking about us leaders)—
you came from Oxford to here, some seeds
to sow
and found a church in which your own belief
could grow,
a church for those who break the rules,
a church for drunks, a church for fools,
like every other church we know.
When you were leading Café C,
you saw there's nothing gained by worry,
saw that life is liturgy,
saw that love's not in a hurry.
You came from somewhere to here to find
a place
where you could learn to see the work of
saving grace,
a church of little miracles
where someone rises, someone falls
and we become community.
Change my hairdo
to the tune of "Sing a rainbow"
Red and yellow and pink and green
orange and purple and blue—
I can change my hairdo,
change my hairdo

every week or two.
The Hitchiner lament

At a time like this, spare a thought for the bard—
The job of a poet is terrible hard.
When you're called upon to write an ode
for a curate (or other member of St John's clergy or ministry team) who is about to hit the road,
there's nobody else that you can blame
when you can't find a rhyme for their second
name.
Now I know what you're thinking—
Your Country Needs You!—
that First World War general—wouldn't he do?
They're both sending out people to fight the
good fight
who are coming back dead or insane because of the complete incompetence of the leadership? Well, all right
perhaps on the whole the comparison's rash,
and anyway Sal wouldn't suit a moustache.
There's just no decent rhyme for the second
name
of Sally—Whitchiner case is a shame,
for she's sharp and quick but there's nothing
of the Bitchiner,
though occasionally there may be something
a little Kitschiner,
and though its true to say she's been regulary
Pitchiner
ideas to the media and one day she may be
Switchiner
career, and will fulfil ambition's Itchiner
and find her Nitchiner
television studio, yet the bright lights of fame
will not be Bewitchiner
for her time here has been Enritchiner,
and we pray that faith, hope and love
may never Flitchiner—
so let nobody think that we are Ditchiner
for her job here is done, the University has
called,
and the will of God is pointing like
the famous poster of Lord Kitchener—
then let us say thank you, farewell
and God bless you, Sally…
our former curate!
---
Performed in St John's, West Ealing in June 2012.