wordsout by godfrey rust
< st john's ealing >
---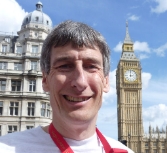 Big Man Steve

for Steve Taylor on his 50th birthday, March 2013, based loosely on the country & western talking song "Big John"

If you walk the streets to the Bunny Park
and you're all alone and its after dark
in you see beneath the light a shadow fall
and you think "That man is rather tall"
it's Big Steve.
Around Ealing and Hanwell they all knew
and his legend bloomed as his stature grew.
He was a giant of man, he was six foot seven—
"Well I like it this way, I'm nearer to heaven",
said Big Steve.
Big Steve, Big Steve, Big Man Steve.

He and Marion lived down in Church Road
in a perfect Taylor-made abode
and they had three children, was the rumour—
that's Laura and Marcus and Marcus' sense
of humour.
He was a man for all seasons, broad not narrah
and he would cycle like Wiggins and run
like Farah
and he worked on a totally different plane
and he went to a church in Mattock Lane
did Big Steve.
Big Steve, Big Steve, Big Man Steve.

Now St John's is fine but it isn't small,
and the ceiling's high and the windows' tall,
and the budget's tight and the sober truth
is that running costs can go through the roof.
But the DCC had some cunning plans
when they made him head of maintenance
so if a job's to done in Mattock Lane
you don't need a ladder and you don't need
a crane
just call Steve.
Big Steve, Big Steve, Big Man Steve.

He was the ultimate versatile music man—
he'd fill any hole in the rota's plan.
He could play piano, he could play guitar,
he was a drummer...(well maybe I won't go
that far...)




But there came a sad end to his singing career
when he found he could no longer clearly hear
he said "I can't lead if I can't tell if I'm in tune
or not"
(though that's never really bothered me a lot)
but that's Big Steve.
And as a techno-whizz he was super-quick
and if your Windows froze or your mouse
won't click
then the things he could do with his laptop tools
would make other men feel inadequate fools
to Big Steve.
Big Steve, Big Steve, Big Man Steve.

Now when you hear a country talking song
you expect a crisis to come along
and you think you're going to get the lowdown
on how it all comes down to some final
showdown
when the good and the bad come face to face
and the wicked are all saved by grace
and the quiet hero has his day in the sun
as he lays his life down for everyone.

But life's not like a country song, I guess
(unless you wear rhinestones and a lamé dress)
and our hero's not the star of Rocky III
or arriving like the US cavalry,
but when you need some help he'll always come,
he doesn't clang like a cymbal or bang like
a drum,
but he's always patient and he's always kind
and he thinks things through with a
humble mind,
he don't carp or boast or act the drama queen
and he's not stuck up (well, you know what
I mean)
and what remains when everything's been done
and seen
sounds a lot like 1 Corinthians chapter 13
(that's a comprehensive definition of love)
does Big Steve.
Big Steve, Big Steve, Big Man Steve.

So let's raise our glass in harmony
to a well-lived half a century
and thank you for being the finest of blokes
(and we'll forgive you for Marcus's appalling
jokes)
Happy Birthday, Big Steve!
Big Steve, Big Steve, Big Man Steve.
---
Performed at Steve's party at his house on March 19, 2013.